Dogfight
(1991)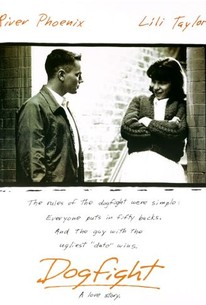 Movie Info
Set in San Francisco in 1963, this highly original and thought-provoking drama chronicles the brief relationship between a young Marine who is about to be shipped out to Vietnam and the rather plain aspiring folk singer who teaches him a few important lessons about life and the treatment of women. The lesson begins after the Marine (River Phoenix) and his buddies, wanting to celebrate their last night of freedom before sailing off to war, decide to rent a bar and hold a "dogfight," an odious contest in which the Marines compete to find the ugliest date. The winner will get all of the other soldier's money. Not pausing to think that the whole contest is cruel and degrading to the women, Eddie Birdlace sets off to find himself a pug-ugly girl. He comes up with waitress Rose Feeney (Lili Taylor) who is only plain. A sensitive girl who listens to folk music, writes poetry and herself aspires to sing, she isn't really that interested in Eddie, but out of pity agrees to be his date. Unfortunately, as they get to know each other, he begins to have a prick of conscience. Still they go to the party. When she learns the truth, she is angry and leaves. Now genuinely sorry, he takes off after her to try and make amends.
Critic Reviews for Dogfight
Audience Reviews for Dogfight
½
Dogfight is cruel, poignant, and yet played out. This is one of the more unique period pieces, an independent film made right at the peak of River Phoenix's fame and only several years before his subsequent death. The story is one that makes little sense in the way of meaning. The span of time is the early sixties, right as the folk scene was starting to gain momentum and the Vietnam War was turning from a conflict to a full scale war. Most of the plot relies heavily on the setting to compliment the storyline. Though this is supposed to be about what beauty really means I didn't see much in the way of Birdlace's (Phoenix) change in demeanor or values, only selfish behavior. Though he takes advantage of Rose (Lili Taylor) and you can tell he feels bad about it before going through with the demeaning act itself, he still demonizes himself by taking her in the first place and not standing up for her directly. He even lies to her while trying to apologize for the cruel way he treated her. The character is a severe detraction from what Marines were. It's not that his portrayal was unrealistic of what wartime soldiers were like, but the script undersells their intelligence at every turn and instead tries to sell us on brotherhood, and an entire side storyline about the folk music scene. Rose is a simplistic clod of a girl, who isn't unattractive, and shouldn't fall for his line of bullshit. Though the film is about changing yourself through acceptance and tolerance, Rose shouldn't have let him try to change himself by using her, and he sure shouldn't have started things with her the night before he was being shipped out. I accept many of these faults because the romance was actually quite sweet. It shouldn't have happened in the first place, but the endearing performance from Phoenix pushed me into liking this despite everything. This is a great performance for him, and Taylor who would go on to make the horrid version of The Haunting. Though this film drags (which is odd since it comes in at an hour and a half) it does plant the idea that what you're led to believe isn't always what's right, and any movie that promotes equality and understanding, no matter how clumsy a way they go about it, gets some kudos from me.
Spencer S.
Super Reviewer
A touching little gem of a piece as a new couple enjoy a night on the town before he ships overseas to be an advisor in Vietnam. Phoenix and Taylor are amazing. I'd never heard of it before! Did I give it 3 stars? Shoulda been 4.
Kevin M. Williams
Super Reviewer
Set San Francisco, California during the Vietnam War, Dogfight conceives the innocent and inexperienced relationship of an unsophisticated woman and a young United States Marine she met on the eve of his trip to Vietnam. Most hilarious. Most charming. Most romantic. My personal brand of romance. Lovely.
Jan Marc Macababayao
Super Reviewer
Dogfight Quotes
There are no approved quotes yet for this movie.