Mata Hari
(1932)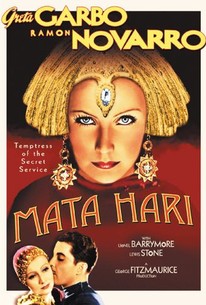 Movie Info
"So much for Carlotta" muses the head of German Espionage (Lewis Stone), shortly after secret agent Karen Morley is put to death. Morley's successor is exotic dancer Mata Hari (Greta Garbo), an enigmatic woman of Javanese-Dutch ancestry who seldom thinks twice about luring some poor swain to his doom. Assigned to intercept allied war messages, Mata Hari romances garrolous-general Lionel Barrymore. She falls in love for the first and only time in her life when she meets dazzlingly handsome lieutenant Ramon Novarro. Barrymore finds out about the affair and threatens to expose both Mata and Novarro as spies, whereupon Ms. Hari shoots Barrymore dead. She arranges for Novarro to leave the country lest he be implicated in the murder. He is subsequently blinded in an airplane crash, setting the stage for Garbo's now-famous "Let me be your eyes" scene. Mata Hari is tried and sentenced to death, but is permitted a few final precious moments with Novarro, allowing him to go on believing that he is in a military hospital rather than a prison cell, and that his beloved is dying of a mysterious ailment rather than facing a firing squad. The debate still rages among film buffs as to whether Greta Garbo does her own dancing in Mata Hari, or whether that's her double in the long shots. There is no question, however, that the condemned prisoner in the first reel who refuses to betray Mata to his captors is none other than Mischa Auer.
Critic Reviews for Mata Hari
Audience Reviews for Mata Hari
If this film had a better script, with less melodrama, it would be an absolute masterpiece. It's the amazing presence of Garbo, who's giving such a vivid performance that feels like the character comes alive on the screen. Amazing, amazing, amazing Garbo. Here you can see the reason why she became such a great star. The Mata Hari vehicle is also interesting for another reason. Mata treats men like equals - even her boss. Men treat her like a godess - and she may toy with them, to do her job, but ultimately, she values their humanity. Mata Hari is such an interesting personality, it's no wonder this character has become a legend. In this film we also see how progressive the 30s movies have been in treating women. Highly recommended despite its faults.
Anastasia Bartzoulianou
Super Reviewer
A very interesting movie, based on real life, but the film makers could have done a better job with putting this movie together. It just doesn't grab your attention, it's boring.
½
"mata hari" is one of early vehicles for greta garbo in her sound stage, but the tale within the movie is entirely fictional despite there's truly a courtesan named mata hari existed in french history. in reality, the promiscuous courtesan who introduces hindu mysticism in her luring dances is simply a sappy lewd woman who naively assumes she could cheat german and french bureaus without offering any spy service, so she's caught to be made as an example despite she committed no actual treasury against france during wwi. but greta gabo's cinematic interpretation gives "mata hari" a subtext of feminism. garbo's mata hari is a real german spy with shrewd intelligence to utilize her own sex appeal to obtain secret information by infiltrating the french bureau until she falls head over heels in love with the russian pilot played by ramon navaro...so she loses her usual composure then slips away into fatal exposure, incurring the doom of her own execution. mata hari in historical reality is more of a kept prostitute for the idle riches, a woman who masters in life of luxury by the favors of men. she could be deemed as feminist more from an assertive perspective of sexual liberation, cut loose from conventional confinement of female virtues, a dionysian figure of individualistic self-indulgence. except this aspect, mata hari is simply a higher class whore who is unjustly punished for her careless mistake. BUT garbo's incarnation as mata hari would be more like a professional woman who is skillful enough to serve her duty as a spy, and also intelligent enough to dodge the governmental prying eyes, a modern woman with wits and charm to evolve her social status into the deity of men, dominating men with her allure meanwhile she belongs to no one but herself. when she chooses to love, she dives into the pit of amour relentlessly. as approaching her own demise, her face is glowing with the ecstasy of passion, her lips parted, repentless with her transient but sparkling life of gaiety. the movie treats mata hari with ultimate sacredness as ramon navaro exclaims "i adore you almost like i adore all the sacred things in life", and it presents a highly idealized contour of the divine woman whose love is precious enough to die for. but still, she's humanized into the martyr of man's love, a romanticist who would rather sacrifice herself to save her beloved. they're larger-than-life tales of romanticism since 30s audience craves for the dreamy escapism to shudder from the grim depression then. in contemporary standard, they all appear corny and preposterous to cynicists. the most phenomenal achievement for "mata hari" belongs to the costume design of adrian who dubs greta garbo with numerous head gears which are allegedly furnaced by garbo's lesbian admirer mercedes de acosta who also had a fling with marlene dietrich. movies like "mata hari" which manifests women in a lofty and respectful light could sell because women then still held a mystic glitter to men, and female sex appeal remained as something men desire to conquer and linger with yearnings just like coveting someone without onanistic release. (pardon the expression)...nowadays it's more like incessant onanism which leaves you callous since sex is overflown everywhere.
Veronique Kwak
Super Reviewer
Mata Hari Quotes
There are no approved quotes yet for this movie.