City on Fire
(1987)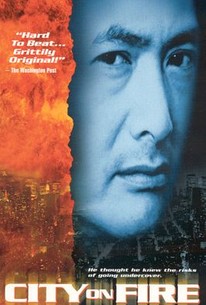 Movie Info
This tense Hong Kong crime thriller is known best as the film upon which Quentin Tarantino borrowed heavily for his 1992 debut, Reservoir Dogs. Those who criticized the American director for lack of originality have perhaps missed the point. In the highly commercialized, formulaic crime genre of Hong Kong, very few thrillers are truly original, and innovation comes in the form of style, action choreography, and dramatic tension. City on Fire, directed by Ringo Lam, is no exception. The story, told in a more traditional narrative form than Reservoir Dogs, follows Chow Yun-Fat as Ko Chow, an undercover cop who infiltrates a ring of jewel thieves. When a heist goes wrong, Chow is wounded, and tension among the robbers escalates as they begin to suspect a traitor among their ranks.
Critic Reviews for City on Fire
All Critics (12) | Fresh (11) | Rotten (1) | DVD (3)
Ringo Lam wastes no time in the film, with the initial, quite violent stabbing, setting the tone for a genuine crime thriller from the beginning.
A little slow going, but Chow, as always, is fantastic.
I wish Buena Vista had lavished a little more care on Lam's film; it deserves better.
August 8, 2001 | Rating: 6/10
Audience Reviews for City on Fire
Inspirational material, cops, and robbers all stem from Ringo Lam's City on Fire.
A solidly written story backed with good storytelling gives this 100 minute picture life. Major characters receive much needed buildup along the way, leading to a conclusion with recognizable and familiar segments.
Low budget caliber action and sound effects blows through the film from start to end. While some of it tends to be a little over the top, it doesn't feel out of place given the time frame of the film.
Chow Yun-Fat is a star. His performance over shadows much of everything else that this film has to offer. Danny Lee proves to be an integral part of the story when the conclusion comes around. Carrie Ng, Roy Cheung, and Yueh Sun complete a package of supporting characters.
City on Fire is Hong Kong cops and robbers at a high level with an ending of familiarity.
Jesus fucking christ, Tarantino didn't improve shit. This movie is great for it's own merits, and sadly has just ended up being refered as the "movie that inspired Tarantino". Which just adds further injury to the irony. More than a mere action filler, this is a film about the characters. Back in the days when both Ringo Lam and Chow Yun Fat were the top dogs in the genre. recommended view for any serious HK movie aficionado.
Tsubaki Sanjuro
Super Reviewer
½
City on Fire is a solid crime flick and worth checking out if you're a fan Asian cinema, but lets get one thing straight right now... Any one who says that Reservoir Dogs stole everything from this movie is not only just plain wrong, they CLEARLY don't know anything about film. While there are similarities between Reservoir Dogs and City on Fire's third act, the rest of the film couldn't be more different. Reservoir Dogs is shorter, has completely different characters, a different structure, totally new dialog, and in emphasizes totally different elements of the classic bank robbery gone wrong plot. Other than the undercover cop, the jewelry heist, and the fact it all ends badly, these two films are TOTALLY different in almost every way. Reservoir Dogs is a tighter, better acted, better written and better directed film. Watch the two films back to back and you'll see the differences between the two are painfully obvious.
Ken Stachnik
Super Reviewer
City on Fire Quotes
There are no approved quotes yet for this movie.