Gun Crazy (Deadly Is the Female)
(1950)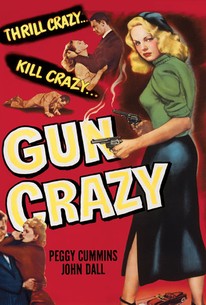 Gun Crazy (Deadly Is the Female) Photos
Movie Info
The definitive Joseph H. Lewis-directed melodrama, Gun Crazy is the "Bonnie and Clyde" story retooled for the disillusioned postwar generation. John Dall plays a timorous, emotionally disturbed World War II veteran who has had a lifelong fixation with guns. He meets a kindred spirit in carnival sharpshooter Peggy Cummins, who is equally disturbed -- but a lot smarter, and hence a lot more dangerous. Beyond their physical attraction to one another, both Dall and Cummins are obsessed with firearms. They embark on a crime spree, with Cummins as the brains and Dall as the trigger man. As sociopathic a duo as are likely to be found in a 1940s film, Dall and Cummins are also perversely fascinating. As they dance their last dance before dying in a hail of police bullets, the audience is half hoping that somehow they'll escape the Inevitable. Some critics have complained that Dall is far too effeminate and Cummins too butch, but Joseph H. Lewis was never known to draw anything in less than broad strokes: recall the climax of Terror in a Texas Town, wherein Sterling Hayden participates in a western showdown armed with a whaler's harpoon. The best and most talked-about scene in Gun Crazy is the bank robbery sequence, shot in "real time" from the back seat of Dall and Cummins' getaway car. Originally slated for Monogram release, Gun Crazy enjoyed a wider exposure when its producers, the enterprising King Brothers, chose United Artists as the distributor. The film was based on a magazine article by MacKinlay Kantor; one of the scenarists was uncredited blacklistee Dalton Trumbo.
Critic Reviews for Gun Crazy (Deadly Is the Female)
Audience Reviews for Gun Crazy (Deadly Is the Female)
½
A solid noir that really focuses on gun ownership as a metaphor for masculinity. Focusing on Barton's upbringing, the gun is where he finds his male identity. We he eventually meets his love, he does it by winning a shooting contest. Clearly asserting his manliness. For the films femme fatale Annie, wielding the gun is a source of power and in one scene in particular, she shows off her shooting skills to a sea of young men. She shoots out into the crowd, almost as if she is shooting her masculinity all over these men. There is even a scene when she pulls out a gun and sets it on her lap and it is as if she too has her source of masculinity, her very own penis. These are just a few examples of all that Lewis leaves the viewer to unpack. The influence that it would later have on Penn's Bonnie & Clyde is obvious. Although not as intriguing as other Noirs, this psychologically dense film is certainly a good watch.
The classic Bonnie and Clyde themed forties movie. It's not a well known cast, but they are really good in this movie. The film is exciting, dramatic, and romantic as well. I just love it.
½
Why is it that the more you want to see a film, the more disappointed you are when you finally see it? I've been reading about this film in essays and books for 20 years. And now that I've seen it? Sigh....not that it wasn't good, mind you. I just built it up in my mind too much. My bad. Let's touch on the positives first, and there are several. It looks great -- all dark and noir-y. Done on a small budget, and looks it...and that's OK. Some street scenes are obviously on a soundstage, but it doesn't really take away anything. And one scene in a fog-shrouded swamp is particularly effective. There are several chase sequences that really had me going. And the bank robbery scene --- filmed from the backseat of the getaway car and done in one long take -- is the most exciting, probably due to the POV aspect. And finally, the climax of the film and the fate of the couple is a knockout. Now for the negatives -- only one, but it's BIG one that affects the whole film...I just didn't buy the casting. These people -- Bart Tare, the gun-loving, reform school graduate, male lead (John Dall) and Annie Laurie Starr, the sharp-shooter bad girl (Peggy Cummins) -- were supposedly blatantly sexual, ruthless and dangerous. Dall and Cummins were far too soft-spoken for their roles. They seemed more suited for ingenues in drawing rooms dramas. One exception is at the circus during their first meeting. There is obvious heat there, but I don't really see it sustained through the film. And both characters were supposed to be gun-obsessed -- hence the title -- but neither appeared to ever have even fired a gun before. There was actually very little gunplay once the film gets underway. From what I had read, I was half-expecting for them to be fondling their guns as if they were sex organs. And finally, Dall's Bart was far too whiny. I understand that Laurie was the more powerful and dangerous of the two, so maybe that was intentional. But it just wasn't effective or convincing for me. Ultimately, it was a good movie, but not the sex-fueled action-packed film it was touted to be.
Gun Crazy (Deadly Is the Female) Quotes
There are no approved quotes yet for this movie.