The Punisher
(1989)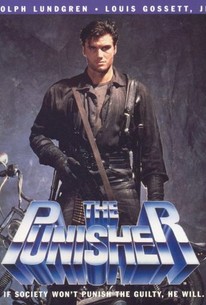 Movie Info
This is an adaptation of a popular, violent Marvel Comics series about a character who's a frontier-style vigilante in modern-day urban America. Dolph Lundgren stars as Frank Castle, once a crusading police officer whose family was murdered by a car bomb planted by the Mob. Believed to be killed in the explosion, Castle has gone underground, building a subterranean lair in the sewer system and vengefully assassinating various criminals, wracking up an impressive body count of 125 slain in five years. Castle's former partner, Jake Berkowitz (Louis Gossett, Jr.) rightly suspects that he knows the true identity of the motorcycle-riding avenger dubbed "the Punisher." Meanwhile, Castle's bloody campaign has had the intended effect of weakening organized crime, creating an opportunity to consolidate power for the ambitious Gianni Franco (Jeroen Krabbe), the man responsible for the Castle family hit. Sensing an opportunity to muscle in on new lucrative turf, foreign competitors threaten Franco's empire. When the Japanese yakuza has the crime boss' innocent son kidnapped, Castle finds himself in the ironic position of helping a man he'd like to kill. Filmed in Australia, this low-budget action thriller did not get a theatrical release in the U.S., instead going directly to video.
Critic Reviews for The Punisher
Audience Reviews for The Punisher
I think everybody can agree on one thing here, this is a very loose adaptation of the Marvel comic book character. There is no skull logo to be seen, 'Castle' goes around everywhere on that loud bike, the origins are all wrong and they basically made him into some kind of revenge stricken Hell's Angel looking leather clad biker. Initial impression is bad as the film kicks off, just look at those opening credits! is this a film from 89 or 79??. The whole sequence looks like some kind of shitty US TV cop serial, half expect Starsky's Gran Torino to roll across the screen sheesh!. The film is a typical violent trashy 80's action flick no doubt. If you take a step back and look at this flick you could easily remove the Punisher character from the plot and nothing would change. You could then stick in any muscle bound character played by any muscle bound star and the film would still work, it would still deliver. Basically its just a run of the mill action vehicle that just happens to have the Punisher as the main character. Now don't get me wrong this isn't a bad thing, end of the day this film is a solid riot of action that will please any 80's buff. The violence is strong, brutal and not cut much, you see it all really. Sure its totally stupid and highly unrealistic but it still takes it self seriously making it more enjoyable. The film has a really nice balance between realism and heavy realism, its not Nolan realistic, its not an 'Expendables' parody/spoof and its not 'Batman n Robin' camp/silliness. You can have a lot of fun with the film if you don't think too much into it yet its still realistic enough to satisfy...if you don't think too much into it. Of course there are some things which simply don't make sense, the bike Castle uses is hardly much for stealth is it, plus he rides around all tooled up completely in black, errr....stealth/hidden identity much Mr Castle?. It also always amused me how they applied makeup on Dolph, he looks so pale and ill throughout this film haha. Trying to capture the appearance of a dark haired hairy man didn't really work. His stubble line keeps getting washed off, you can see it on his earlobes at times and when its pasted on in all its glory it looks like a dirty big smudge across his face hehe. But as far as the character I think Dolph does really well and gives us a nice muted sinister Punisher. A man of little words but big on action, the more I think about it the more I liked his performance (lack of acting skills in one of his first films aside). He does look good, his outfit is bland but effective (the skull logo does give you away somewhat), he looks like he can pull off the heists he sets out to do, he fights well and can handle the weapons. Its Rambo in a black outfit basically. The bad guys weren't quite as well thought up in my opinion, plenty of suit wearing thugs to gun down sure but no one stood out. I quite liked the Yakuza direction, the female boss and her sexy kick boxing female assistant, kinda corny but fun. The finale set in a traditional washitsu filled with Shoji doors was well done, the lighting getting knocked out gave it the atmosphere. I think the film overall is actually a perfect comic book adaptation that is pretty gritty, quite dark and highly exciting with real action, no over the top CGI. The obvious lack of budget, good locations and screen busting stunts actually gives the film a much better feel, much more seedy, much more grim, one of those things that just works and can't really be recreated, a happy accident. If you like masses of henchmen getting killed as an invincible one man army runs around with unlimited ammo 'Commando' style, whilst the bad guys empty clip after clip in his direction hitting everything but their intended target...then this film could well be for you.
Phil Hubbs
Super Reviewer
½
This was the first film adaptation of the Marvel Comics antihero, but, aside from the title, character name, and violence, it bears little resemblance to the source material. Frank Castle (in this version) is a former cop who is presumed dead. After his family is killed in a mob hit, he goes into hiding, and wages a one man war against organized crime using the moniker The Punisher. His war really heats up when a group of Yakuza (Japanese mobsters) show up wanting to take over the criminal underworld from the Italian establishment, with Frank caught in the middle. As an adaptation, this isn't all that great, but as a straight up action movie, it is a bit better, though in the long run is ultimately just run of the mill when compared to the overall crop of similar genre films from the era. The film does have a pretty high level of violence though, with an impressively large body count to boot. The film is also suitably grim, gritty, and has a sense of realism to go with it's dark tone. Dolph Lundgren is fine in the title role, though he kinda comes off as a bit monotonous at times with his line delivery, and it feels rather lifeless. Louis Gossett Jr. is unfortunately wasted as Frank's former partner who is hell bent on tracking him down. As the main Italian villain Jeroen Krabbe is actually okay, but the real treat with villains comes in the form of Kim Miyori as the head Yakuza lady, She's frighteningly creepy and threatening. All in all this is a watchable, though unremarkable action flick. It has it's moments, but in the grand scheme of things isn't all that special.
Chris Weber
Super Reviewer
½
The first Punisher film starring Dolph Lundgren is a decent film, but one that has too many flaws to really make it a good viewing experience. Nonetheless it is still pretty entertaining. The biggest problem I had with the film is that it feels too low-budget with a so-so cast of actors. Lundgren is pretty good in the part, but I feel he lacked the intensity that Stevenson gave in the 2008 reboot, Punisher: Warzone. The film has some decent action scenes that are exciting and violent, but the films plot is not that interesting, and is underdeveloped, as if the filmmakers rushed to finish the script and make this film as fast as possible. As far as Punisher films are concerned, this is my least favorite of the three due to a very weak plot, and very wooden acting. Luckily Lundgren saves this film from being a total dud. If you're in the mood for a cheesy action film, then give this one a shot. This film is entertaining, but you see that the filmmakers are struggling with trying to deliver something effective on-screen. This film could have been done better and it lacks anything to really make it a memorable action film. However, it's still fun for what it is. Just don't expect anything great with this film. Expect a decent popcorn actioner with this 1989 version with a limited plot and so-so acting. The action scenes do standout, but compared to other Punisher films, the action in this film is fairly minimal. I think it's a fun film that had the potential of being so much better than what it turned out to be. As far as Punisher films are concerned, this one is fairly bland, but is worth watching if you're a fan of the character.
The Punisher Quotes
There are no approved quotes yet for this movie.