The Hot Spot
(1990)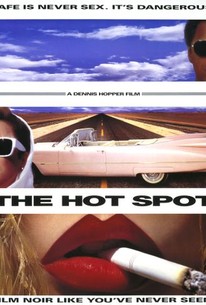 Movie Info
A drifter settles down in a small southwestern town and becomes involved in a web of crime and romance.
Critic Reviews for The Hot Spot
Audience Reviews for The Hot Spot
A good attempt at a film noir by Dennis Hopper. It's a little slow to begin with, but soon there are plenty of twists along the way. Things heat up when a drifter passes through a small town and sets off a chain of events which will change many lives. This film has a few themes running through it, hot women, American classic cars and some cool Jazz tunes as well. Doesn't seem to be on TV much, catch it when you can.
The Hot Spot is an outstanding erotic thriller from director Dennis Hopper, evocative of 40s film noir yet set perfectly in present day west Texas. Although this film is known to many only for Jennifer Connelly's topless scene, the nudity is only a bonus, and I found femme fatale Virginia Madsen much sexier. She plays Dolly Harshaw, a hot, manipulative seductress combining 50s Liz Taylor with 90s Sharon Stone. I don't love Don Johnson ordinarily, but he's effective here, and you'll fall in love instantly with Connelly's character. Johnson's character is not so much a criminal mastermind as a clever shady drifter (who picks up work as a car salesman, imagine that!) The acting is good all around; I liked Bill Sadler as a redneck sleazeball, and Jack Nance is hilarious as the bank president. How could you ask for more, really? The Hot Spot's got scandal, murder, blackmail, nudity, and a little humor set in a hot, dusty setting. The soundtrack's good too. One critic termed Madsen "relentless," but I reserve that for Maddie in Body Heat. That's a superior film, but uninhibited and insatiable apply just as well to this film. The action and the passion build to a fever pitch and climax unexpectedly in this steaming hot potboiler. It's a little long and meandering but a neo-noir success nonetheless.
Clintus Maximus
Super Reviewer
½
This is quintessential film noir, a little gem that reeks of Stanwyck and Mitchum and ripples with pithy one-liners, nicely convoluted plot twists and a classic moral triangle. All the leads deliver knowing and unhurried performances, aided by a lean, laconic script and smooth direction - Jennifer Connelly is the astonishingly beautiful innocent, gradually bring dragged into a corrupt world ; Virginia Madsen simmers perfectly as the amoral and predatory manipulator ; and Don Johnson brings style and swagger to the central role, the cynical opportunist who finds a moral redemption of sorts, an outsider who finds himself both player and played in a seedy small-town intrigue. Like all the best noir, Hot Spot starts with the implicit assumption that the audience is grown-up and able to appreciate subtlety and inference, and this understated adherence to story and character is a long way from the referential post-modernism of Tarantino. And while it probably lacks some of Tarantino's flash and bravado, the dialogue drips with innuendo and irony, and I challenge anyone not to get caught up in both the ingenious narrative and the sheer enjoyment of the supporting cast, who provide plenty of visual and verbal humor. The silences and raised eyebrows at various points are a delight, we can work out the meanings for ourselves (and it's nice to be trusted to do that), and I don't think Don Johnson has been better before and or since. If you are looking for a Scorsese/Coppola-style gangster film, or an intricate ensemble piece with plenty of shooting like The Usual Suspects, this might not be your bag. But if your taste runs to Double Indemnity, The Big Heat or Out Of The Past, I can almost certainly guarantee that - like me - you will find The Hot Spot deeply satisfying, a storytelling treat that exemplifies the best of the genre and, unlike most of its late 80's/early 90's contemporaries, easily stands the test of time.
David Ladd
Super Reviewer
The Hot Spot Quotes
There are no approved quotes yet for this movie.