A Wedding
(1978)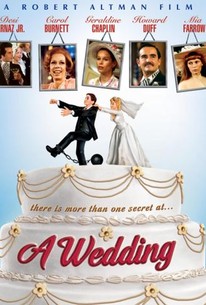 Movie Info
Robert Altman's over-frenetic satire on American marriage rituals and hypocrisy concerns the upper-crust marriage between Dino Corelli (Desi Arnaz Jr.) and Muffin Brenner (Amy Stryker). As the film begins, a senile bishop forgets the lines to the wedding ceremony and Nettie Sloan (the groom's grandmother) drops dead in an upstairs bedroom. Nettie's death is not disclosed to the two families who converge at the wedding reception. As the two sets of in-laws slam into each other, the bride and groom disappear in the ensuing whirlwind of chaos as both extended families vie for sexual favors and try to keep hidden never-discussed family secrets. Regina Corelli (Nina Van Pallandt) is revealed to be a drug addict, while Luigi, is endeavoring unsuccessfully to keep his Mafia connections under wraps. Meanwhile, the bride's family, although more down to earth, are revealed to be no better. Tulip Brenner (Carol Burnett) begins to flirt with one of the wedding guests, Mackenzie Goddard (Pat McCormick), while Snooks Brenner (Paul Dooley) acts like a lout and drinks heavily. And flying around the edges of the action like Tinkerbell is Buffy Brenner, the Brenners' youngest daughter, who is pregnant by the groom. As other characters bang into each other -- sexual degenerates, hard-nosed radicals, raw-boned emotional wrecks -- the wedding reception heads for its inevitable nuclear explosion.
Critic Reviews for A Wedding
Audience Reviews for A Wedding
I don't think this is one of Altman's best films. It's good but no where as good as his other works (MASH, McCabe & Mrs Miller, The Long Goodbye, California Split, 3 Women) And yet it is a pure Altman picture filled with his signature overlapping dialogue, a fleet of characters, wicked satire and multiple plots. This film takes place at a wedding and well it's not your typical average wedding. So much zany stuff goes on that I was distracted and had a tough time trying to keep pace with the rest of the movie. I'm sure that was Altman's intent but even his recent film "Nashville" I was able to understand what was going on. Underneath the crude dialogue there was always a powerful scene involving the characters. In "A Wedding" Altman shows many scenes and plots but im not sure if it has made a huge impact for the characters or myself. Hard to describe overall.
½
I'm not sure why this film doesn't get mentioned much when Altman is discussed. Maybe I had lower expectations, but I was pleasantly surprised at how much I enjoyed the film. It has all the hallmarks of Altman's most popular films: the large ensemble cast, quirky characters, multiple story lines. It most reminded me of Godsford Park, in that both film take place in large country mansions with many people coming to stay for a short period of time. *currently (8-23-11) on Netflix streaming.
½
Robert Altman's "A Wedding" is a terrifically witty film. Like most of Altman's ensemble pieces, "A Wedding" is brimming with life, characters, unexpected turns and an uncommonly accurate social commentary. Full of memorable characters and situations as well as some extremely sharp dialogue, "A Wedding" is one of Altman's lesser seen films that deserves to find an audience because its jabs still ring true today. This film is nothing but inspired fun. Carol Burnett is also memorably funny here.
Steven Carrier
Super Reviewer
A Wedding Quotes
There are no approved quotes yet for this movie.