Victory
(1981)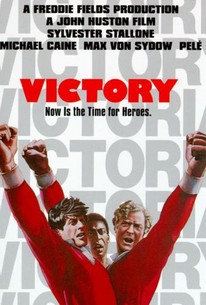 Movie Info
John Huston directed this exciting World War II action film, which culminates in a rousing soccer game. In a German prisoner of war camp, Major Karl von Steiner (Max Von Sydow), the camp commander, once a member of the German national soccer team, decides to put together a soccer match between a team of Allied prisoners, led by Captain John Colby (Michael Caine), a former English international soccer player. The game is to be played in Colombes Stadium in Paris and exploited for maximum propaganda effect by the Nazi publicity machine. Robert Hatch (Sylvester Stallone) is enlisted to assist the Allied prisoners to train for the event. But, in fact, the Allies are planning a risky escape during the soccer match. Famed Brazilian soccer great Pele makes an appearance in the film, along with Bobby Moore, the captain of Britain's 1966 World Cup champions, and Argentine soccer star Osvaldo Ardiles. ~ Paul Brenner, Rovi
News & Interviews for Victory
Critic Reviews for Victory
Audience Reviews for Victory
½
This film can only be described as The Great Escape with football, The story has been done a few times but I think this was one of the first, It has a great strong cast and some good performances by some top football players at the time, Stallone isn't a very convincing keeper but he tries, The match itself was fun with some good skills being shown mostly by Pele, The ending was a little annoying as the match finished in a draw and the way they were meant to escape which took half the film to plan wasn't used and they did it a much easier way but still it's a fun movie with a great cast that's very entertaining.
Jamie Clarke
Super Reviewer
½
Imagine the brilliance of combining The Great Escape with football. If The Great Escape didn't have you crying manly tears of true awesomeness into a nice cup of tea then this surely will. The use of real actors and footballing professionals really does give the film a more realistic edge than many sporting films. Well at least during the games and training. Not just for football fans, who may actually be too picky and disgruntled of Stallone being the lead. Uplifting, salute worthy and just a bit of fun. Sydow is also brilliant as a nice German officer, which I didn't get since we all know that Germans in war films are evil.
Luke Baldock
Super Reviewer
½
Such a cheesy premise that you have to give it some credit for daring.
Tsubaki Sanjuro
Super Reviewer
Victory Quotes
There are no approved quotes yet for this movie.