Valley Girl
(1983)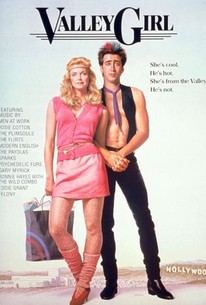 Movie Info
An amusing elaboration upon the popular record by Moon Unit Zappa, Valley Girl stars Deborah Foreman in the title role. Spouting such California-dreamin' catchphrases as "like, fer sure", "totally", Deborah plays a teenaged suburbanite who falls in love with a wrong-side-of-the-freeway punk, played by Nicolas Cage. Despite his bad reputation, Cage is a sweetheart underneath, far more concerned about Deborah's reputation than she is. Little does he know that her parents, beautifully played by Colleen Camp and Frederick Forrest, are unreconstucted children of the sixties. Although it has some the usual cliched trappings of 1980s comedies -- silly misunderstandings, disguise scenes, slapstick-- Valley Girl remains a fresh and invigorating experience.
News & Interviews for Valley Girl
Critic Reviews for Valley Girl
Audience Reviews for Valley Girl
A seminal eighties teen comedy, "Valley Girl" is so much more than just a vapid romantic comedy. Oh, it's definitely not one of the finer films of the decade for that age group, but not everyone can be John Hughes. Loosely based on both William Shakespeare's "Romeo and Juliet" and the song of the same name by Frank Zappa, the film itself is a commentary on the valley girls of the San Fernando Valley who lived in affluent neighborhoods. They spent a lot of money, didn't much care for social issues, and had their own dialect and slang that became very popular in the United States after this film was released. While watching this I couldn't help make comparisons to the equally thoughtless and classic "Clueless." While that film put a lot of emphasis on wealth and privilege, this film exclusively deals with the social boundaries set up between the well-off kids in the valley and the punk rock kids at Hollywood High. Two of them cross paths at a party, and instantly fall for each other. They are separated by class, community, and place but have a very strong connection, and that actually comes off well onscreen. It's a very lively and fun kind of film, and though it doesn't have the depth of even "Clueless" or the humor, it does what it sets out to do, and that's to show two people brought together in a high school setting. The soundtrack is phenomenal with new wave bands and classic punk and rock, which is always playing in the background. The performances are actually really great for this kind of schlock, including a very melodramatic and anger fueled punk performance from a young and unknown Nicolas Cage. Even the girl's friends have personalities, including a performance from voice actress Elizabeth Daily. This may not be one of the better films of the time, but it's easy fun and there are so many great songs to make up for inconsiderate writing.
Spencer S.
Super Reviewer
Cooly awesome movie Deborah Foreman and Nicolas Cage have great chemistry together!!!!! This is an awesome cult classic. I'm So Sure! (:
Cassie Hill
Super Reviewer
The quintessential val movie! This hilarious comedy is an essential for 80s teen movie fans. The plot is like a modern day Romeo and Juliet, but more subtle, as the conflict is that her friends don't like who she's dating (her parents are hippies who're cool with him). I love this movie, it's a fun romantic comedy drama, and I highly recommend it.
Valley Girl Quotes
There are no approved quotes yet for this movie.