To Be or Not to Be
(1983)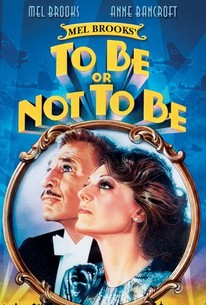 To Be or Not to Be Photos
Movie Info
Mel Brooks and his wife Anne Bancroft co-star in this funny remake of a 1942 comedy of the same title, based on a story by Ernst Lubitsch and Melchior Lengyel about a down-and-out Warsaw theater troupe who save the Polish resistance fighters from the SS in World War II. Frederick Bronski (Brooks) leads a struggling theatrical company that offers anything -- from excerpts of Hamlet to stock vaudeville -- if it will pull in an audience. Unknown to Frederick, his wife Anna Bronski (Anne Bancroft) starts up an extra-marital interest in a Polish pilot (Tim Matheson) that could lead to a large-scale disaster. The pilot unknowingly reveals the names of the Bronskis and several resistance fighters to an SS spy (José Ferrer), and by the time he finds out what he has done, he is in London, so he is forced to return surreptitiously to Warsaw as fast as he can to stop the list of names from landing in the hands of the SS chief (Charles Durning). Once the theater troupe is called in to help on this mission, the comedy begins in earnest with the actors donning the guise of Nazis, and Anna seguing into "seductions" of the SS spy and his chief as a part of their battle plan.
Critic Reviews for To Be or Not to Be
Audience Reviews for To Be or Not to Be
Very funny remake of a zany original. One of my favorite Mel Brooks films.
Christian C
Super Reviewer
½
Excellent and long forgotten spoof from funny man Brooks, his version of a classic satire. Some excellent casting with his regular bunch of misfits and character actors...Chris Lloyd, Charles Durning, George Wyner, George Gaynes etc..Its quite a touching little plot too, but ultimately very funny and quite witty, especially loving Lloyd and Durning as nazi soldiers :)
Phil Hubbs
Super Reviewer
½
The Nazis march into Poland and that spells big trouble for the greatest musical comedy star there (and his wife) --- the premise itself is a joke in this mostly-for-the-fun-of-it remake. Its not the original, true, but its fun watching the cast have fun funning the idea of a master race, all who are portrayed as anything but that. Sometimes the kraut accents sound as bad as your friends doing it and the sets look only a little better than that.
Kevin M. Williams
Super Reviewer
To Be or Not to Be Quotes
There are no approved quotes yet for this movie.