Thief
(1981)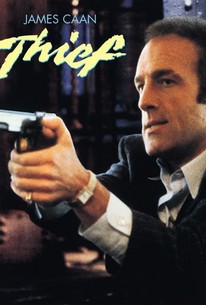 Movie Info
In Thief, James Caan plays Frank, a professional jewel thief who wants to marry Jessie (Tuesday Weld) and settle down into a normal life. In order to achieve his dream of a family, Frank--who is used to working solo--has to align himself with a crime boss named Leo (Robert Prosky), who will help him gain the money he needs to begin his domestic life. Frank plans to retire after the heist, yet he finds himself indebted to Leo and he struggles to break free. Thief is the first feature film from director Michael Mann and it seethes with his stylish, atmospheric direction. Though his cool approach may put off some viewers, it's a distinctive and effective story-telling approach, and Caan's performance ranks among his very best, making Thief a crime movie like few others. ~ Stephen Thomas Erlewine, Rovi
News & Interviews for Thief
Audience Reviews for Thief
Mann's feature debut is a gritty mass of machismo and kinetic energy, and James Caan turns in one of his greatest performances.
Kase Vollebregt
Super Reviewer
½
Gritty with good performances. Another example that Tuesday Weld really should have worked more than she did.
Frank: Look, you wanna pinch me then pinch me... I'll be out in ten minutes. If not, GET THE FUCK OFF MY CAR!  "Tonight, his take home pay is $410,000... tax free." Michael Mann's debut, Thief, is a stylish and intelligent heist thriller. There's a lot of cool stuff going on in Thief. It's one of those crime classics that have been forgotten because of movies like Heat. Thief is a great film in its own right. Mann showed the success he would be right from the get go. The film doesn't mess around, and has one of the single coolest end sequences I have ever seen. I'll admit, the film did take a little while to suck me in, but once it did I was enamored by it.  Frank is a professional thief. He breaks into safes for diamonds and cash only. He's always wanted to retire to a normal life with a wife and kid. He thinks he has the chance when a crime boss asks him to join up for a big score. Frank thinks he can take the cash and settle down to a nice life. The boss has slightly different plans for Frank which may interfere with him getting exactly what he's always wanted.  The heist scenes are really good, and Mann doesn't pump up the cliché of fighting against a clock and the police like the normal heist film will do. Thief isn't your standard heist film at all. Standard heist films go through a formula normally leading up to the final heist scene which will pretty much end the movie. Not this one. There's a lot of time after the final heist, and the after effects are the best part of the movie hands down.  The acting is left in the capable hands of James Caan. He is at his best in Thief. He plays a stubborn criminal to perfection. His performance in this one may be my favorite single performance from him ever. He struts his criminal character around with a sense of anger and cool, that just makes you pay attention to every little detail of his performance.  This is kind of a forgotten film in the grand scheme of cinema, but it is one you should really seek out. It is loads better than 98% of the crime thrillers out there. It has an accomplished director(now) at the helm and a terrific actor in the lead. There isn't much not to like about it. I wouldn't go as far as to say it's a masterpiece or anything, but it is one that will surely blow you away. Well, well worth a watch.
Melvin White
Super Reviewer
Thief Quotes
There are no approved quotes yet for this movie.