Texas
(1941)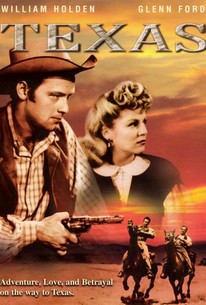 AUDIENCE SCORE
Critic Consensus: No consensus yet.
Movie Info
Texas was Columbia Pictures' lighthearted (and frankly more enjoyable) follow-up to its 1940 big-budget western Arizona. William Holden and Glenn Ford, looking collectively 28 years old, play a couple of ex-Confederate soldiers who get into all sorts of trouble in a wide-open Texas town. The two split up, whereupon Ford takes a job on Joseph Crehan's ranch; by and by, he falls in love with Crehan's daughter Clare Trevor. Meanwhile, Holden has joined a gang of rustlers headed by town dentist Edgar Buchanan (in real life, Buchanan had been a practicing dentist, retaining his license well into the sixties just in case things slowed down in Hollywood). Ex-friends Ford and Holden confront each other again when Holden tries to steal the cattle that Ford is driving across the state to Abilene. Complicating matters is the fact that Holden, too, carries a torch for Trevor. Though packed with action and suspense, Texas never loses its subliminal sense of humor, a fact that can be attributed to its director, slapstick comedy veteran George Marshall.
Audience Reviews for Texas
½
The basic story is not new but what makes this stand out from the western pack is the cast. Holden and Ford have such an easygoing banter and chemistry it's a pity they didn't work together more. Their interactions especially at the begiinning of the picture are nice and breezy. Plus there's the great Claire Trevor with her saucy insouciance and pluck that brightened any film that was lucky enough to have her in it. Edgar Buchanan stands out in the supporting cast supplying his particular brand of folksy charm. Worth seeking out.
Texas Quotes
There are no approved quotes yet for this movie.