A Star Is Born
(1937)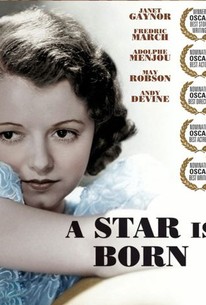 Movie Info
A Star is Born came into being when producer David O. Selznick decided to tell a "true behind-the-scenes" story of Hollywood. The truth, of course, was filtered a bit for box-office purposes, although Selznick and an army of screenwriters based much of their script on actual people and events. Janet Gaynor stars as Esther Blodgett, the small-town girl who dreams of Hollywood stardom, a role later played by both Judy Garland and Barbra Streisand in the 1954 and 1976 remakes. Jeered at by most of her family, Esther finds an ally in her crusty old grandma (May Robson), who admires the girl's "pioneer spirit" and bankrolls Esther's trip to Tinseltown. On arrival, Esther heads straight to Central Casting, where a world-weary receptionist (Peggy Wood), trying to let the girl down gently, tells her that her chances for stardom are about one in a thousand. "Maybe I'll be that one!" replies Esther defiantly. Months pass: through the intervention of her best friend, assistant director Danny McGuire (Andy Devine), Esther gets a waitressing job at an upscale Hollywood party. Her efforts to "audition" for the guests are met with quizzical stares, but she manages to impress Norman Maine (Fredric March), the alcoholic matinee idol later played by James Mason and Kris Kristofferson. Esther gets her first big break in Norman's next picture and a marriage proposal from the smitten Mr. Maine. It's a hit, but as Esther (now named Vicki)'s star ascends, Norman's popularity plummets due to a string of lousy pictures and an ongoing alcohol problem. The film won Academy Awards for director William Wellman and Robert Carson in the "original story" category and for W. Howard Greene's glistening Technicolor cinematography. ~ Hal Erickson, Rovi
Critic Reviews for A Star Is Born
Audience Reviews for A Star Is Born
For a film about acting, it is frustrating that we never see how Esther's evolves or Norman's gets worse; besides, this feels completely dated now, shifting focus halfway through from its weak female protagonist to a selfish male and coming off as awfully sexist with its traditional values.
Carlos Magalhães
Super Reviewer
The original. 1937. Typical of Hollywood, it's slick and flush with warnings of the dangers and lies of Hollywood while at the same time glamorizing them. Anyway, a wide-eyed gal from the sticks goes to L.A. to make it in the big time only to fall for a star who conversely fading, etc., etc., etc. Why does she make it? Why does he fail? That's not shown, only implied. Janet Gaynor was an unknown quantity to me, though a big star in her time, and she nearly won me over by the film's end, especially the scene where, as a waitress, she auditions for Tinseltown bigwigs, impersonating other well known 1930's stars. But the film belongs to Fredric March who is introduced as unlikable, seldom veers far from that, and yet must maintain our interest so we can not like him some more. Adolf Menjou, yet again, plays the supporting character/deus ex machina throughout unobtrusively. Not bad.
Kevin M. Williams
Super Reviewer
½
This is one of the original "young girl goes to Hollywood to become famous" movies. It's a little too optimistic, by our cynical POV today, yet isn't completely a glossy picture either. It seems a lot like what could have really happened with young celebrities back then, maybe, if they were attractive and very lucky, which she is. The cast is perfect in their roles, though, so it's an enjoyable movie to watch with drama, comedy and romance. So, it's pretty good, and like I said, one of the originals, but not the best of this kind of movie.
A Star Is Born Quotes
There are no approved quotes yet for this movie.