The Shooting
(1967)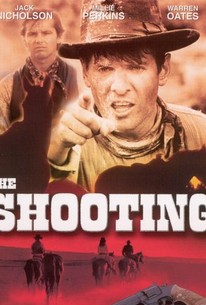 Movie Info
Director Monte Hellman used his beloved "hunter as hunted" theme for his near-existential western The Shooting. Jack Nicholson and Warren Oates are starred in this bare-bones tale of an ex-bounty hunter (Oates) with a price on his head and the cocky young gun (Nicholson) who hopes to collect. The film seems to be exclusively populated by Life's Losers; but even with portents of doom throughout, the ending is still a jaw-dropping experience. Demonstrating the parsimony he'd learned while working with Roger Corman, director Hellman shot The Shooting in Utah simultaneously with another feature, Ride in the Whirlwind, for a combined budget of $150,000. Completed in 1967, The Shooting did not receive widespread release until after Jack Nicholson achieved stardom in the early 1970s.
Critic Reviews for The Shooting
Audience Reviews for The Shooting
½
warren oates is so friggin' great in this film. the near constant air of menace is mostly down to him and the soundtrack. a very young jack nicholson gets by more on his unusual looks and ability to ride a horse than anything else. and millie perkins' performance is odd to say the least. the paranoid, existential and so-called 'acid' western said to have been inspired by the kennedy assassination
Stella Dallas
Super Reviewer
½
A very unique movie, it's really basic and dreamy. It feels more like an acid trip than an actual movie, the camera never moves toward the focus of the scene but wherever it feels like going. For the very little dialogue and character development it has, Warren Oates and Jack Nicholson manage to have some very memorable characters. It's not exactly an essential part of film history or westerns, but it's interesting.
Conner Rainwater
Super Reviewer
Peculiar Western...existential, indeed. Millie Perkins sure was beautiful, but I think she's out of her depth as an actress here.
Eric Broome
Super Reviewer
The Shooting Quotes
There are no approved quotes yet for this movie.