Separate Tables
(1958)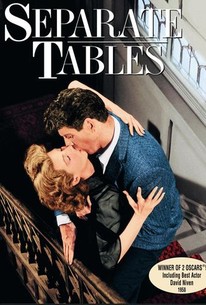 Movie Info
Based on Terence Rattigan's play, Separate Tables is about a number of characters and their adventures at a British seaside hotel. Among the guests are an alleged war hero (David Niven), a timid spinster (Deborah Kerr) and her domineering mother (Gladys Cooper), and a divorced couple (Burt Lancaster, Rita Hayworth) trying to re-ignite their romance despite the presence of his mistress (Wendy Hiller). All of the characters' lives become intertwined in the course of the film as the story examines love affairs and secrets. Separate Tables is a fine, textured drama, filled with terrific performances and was nominated for several Academy Awards, including Best Picture, Best Actress (Deborah Kerr), Best Actor (David Niven), Best Supporting Actress (Wendy Hiller), Best Screenplay From Another Medium, Best Cinematography and Best Music. Niven and Hiller won Oscars for the film.
Critic Reviews for Separate Tables
Audience Reviews for Separate Tables
Niven once mentioned in his autobiography that he was never a great actor but he really comes to the fore in this tale of strangers coming together at a hotel initially separated but eventually interacting in a marvelous way.
John Ballantine
Super Reviewer
Little more than a glorified soap opera, one that belittles gossips and gossiping while diving headlong into the same, thereby allowing one both the pleasure of looking down at others as well as the pleasure of looking down at people who are low enough to take pleasure in such common and tawdry filth. Or, in a word, British. All the this is raised slightly by a super cast, simply enjoyable to watch.
Kevin M. Williams
Super Reviewer
½
It is interesting to see some of the better movies of the 50's. I only watched this as the TV guide rated it 4 *'s. Can you imagine "living" at a seaside hotel for four years the way Major Pollock did? The movie was fine. When you "live" in a hotel for a long time, and in high society Britain, everybody knows everyone else's business. This can make for an interesting story. I was amazed to read however that two of the ensemble of actors won Academy Awards,
Separate Tables Quotes
There are no approved quotes yet for this movie.