Scarecrow
(1973)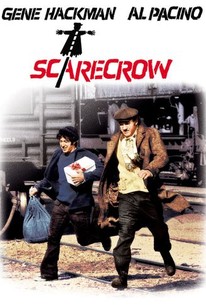 Movie Info
An ex-con learns the value of friendship in Jerry Schatzberg's picaresque road movie. Trying to hitch a ride on a desolate California road, fresh-out-of-prison Max (Gene Hackman) meets ex-sailor Lion (Al Pacino). They are both headed east, as Max dreams of opening a deluxe car wash in Pittsburgh and Lion believes that the wife and child he left behind will still welcome him home. The two decide to journey together, forging an increasingly deep yet uncertain friendship, as Lion teaches Max how not to be so pugnacious and Max senses Lion's fragility. When the pair hits Detroit, Lion finally gets in touch with his wife and discovers how she really feels. When Lion is shattered by the revelation, Max must decide if he should forge on alone or sacrifice his carefully guarded savings to help his friend. One of a cycle of late 1960s-early 1970s buddy movies that included Midnight Cowboy (1969) and California Split (1974), Scarecrow suggests how alienated men had become from such traditional institutions as marriage and family. Max's and Lion's salvation comes from being on the road with each other, rather than settling down with jobs and families. Pacino's first film after his triumph in The Godfather (1972), and Hackman's follow-up to The Poseidon Adventure (1972) and his Oscar for The French Connection (1971), Scarecrow won the 1973 Palme d'Or at the Cannes Film Festival, but the two stars were not enough to make it a hit. Even so, their nuanced performances enhance this moody study of contemporary dislocation. ~ Lucia Bozzola, Rovi
News & Interviews for Scarecrow
Critic Reviews for Scarecrow
Audience Reviews for Scarecrow
Gene Hackman and Al Pacino from their halcyon days as Hollywood royalty, easily chewing scenery between Cali and Pittsburgh as two drifters who form an alliance that slowly changes to friendship. In the spirit of the times it was made (ala Midnight Cowboy) the two are opposites and have lessons both to teach and to learn, neither which neither particularly want. Mesmerizing stuff. And look for Penelope Allen's brief contribution - Best Supporting Actor worthy nod.
Kevin M. Williams
Super Reviewer
Scarecrow, is a great road movie, it's very sentimental, but this don't changes the wonderful screenplay, written by Michael White, and the direction of Schatzberg. Hackman and Pacino, show a impressive dynamics due that surely go move who is watching. A surprising motion picture whose show that, the better way to satisfy you self this made the people happy and not fight with they. Scarecrow just like Easy Rider and Midnight Cowboy, are road/buddy sentimental movies, sometimes very similar, but still a good film. Fresh.
Lucas Martins
Super Reviewer
Hackman and Pacino are terrific in this underrated road movie, an honest and refreshing character study about two different men who develop an unlikely bond - and the effect it causes on each of them. A great drama that can be funny and also surprisingly touching.
Carlos Magalhães
Super Reviewer
Scarecrow Quotes
There are no approved quotes yet for this movie.