Rollercoaster
(1977)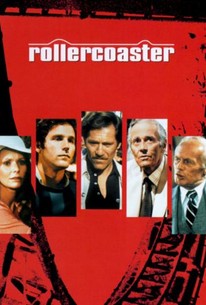 Movie Info
Rollercoaster was a by-product of the brief "Sensurround" craze of the 1970s. Nutsoid Timothy Bottoms sabotages an amusement-park roller coaster, killing several innocent revelers. After several other acts of terrorism, Bottoms (whose character is credited as Young Man) presents his demands to the authorities via audio tape: one million dollars, or he'll stage five roller-coaster disasters simultaneously in five different parks. Because detective Harry Calder George Segal evinces a grudging respect for the elusive extortionist, Bottoms declares that only Detective Calder will be permitted to deliver the money. Thus the stage is set for an explosive climax, which during the film's original run was accompanied by the Sensurround effect, a gimmick that electronically caused the filmgoer's chairs to begin shaking and vibrating during the "thrill scenes." As with most disaster flicks of the era, Rollercoaster is top-heavy with "guest stars," including Richard Widmark, Henry Fonda, Harry Guardino, and Susan Strasberg. Watch for 13-year-old Helen Hunt as Detective Calder's spunky daughter.
News & Interviews for Rollercoaster
Critic Reviews for Rollercoaster
Audience Reviews for Rollercoaster
Woefully underrated thriller stars Timothy Bottom and George Segal in a brilliant game of cat and mouse set at a series of theme parks. Disaster films of the 70s were big on gimmicks and short on characterization. Rollercoaster was marketed around its catastrophes. And while the action is highlighted a couple of accidents, it's the performances of these two leads that draws you in. It's really not a disaster movie at all, but a battle of wits. The narrative strips away needless extras and lays bare an intense relationship between good and evil. Timothy Bottoms portrays the demented young man who sabotages roller coasters around the country in an effort to extort $1 million dollars from the authorities. He presents the terrorist not as a crazed madman, but as a calm handsome, preppy type. The depiction is thoroughly unexpected and goes a long way in making him a delightfully uncharacteristic villain. He's matched in his scheme by George Segal as Harry Calder, the Standards and Safety Inspector, whom he personally selects as his contact. Segal has got a world weary cynical tone that makes the dialogue better than it's actually written. Together their discomforting but occasionally amusing exchanges are what drives the script. I'll admit this isn't a complex picture. There aren't many plot twists that will be difficult to follow. But it's that glorious simplicity that I find so appealing. The climax takes place at the opening of "The Great American Revolution" roller coaster at Magic Mountain in Valencia, California. The unveiling is introduced with a lot of fanfare. Cult Los Angeles rock band Sparks even makes an appearance as the entertainment for the grand opening. This is a big deal people! Apparently this was the world's first modern roller coaster to feature a vertical loop. Ah these were innocent times. Given the excitement of the cluster at the front of the line, you'd think they had tickets to the moon. In the end, this isn't the type of film to win a lot of Academy awards, but you knew that when you read the synopsis. It is however an incredibly entertaining thriller with wonderful performances. I loved it.
Mark Hobin
Super Reviewer
"Rollercoaster" is one of those movies where you check your brain at the door and just sit back to watch. If you think about it much the flaws will come pouring out. It's a simple story of an extortionist who terrorizes the nation's amusement parks until he gets his money. Obviously it is the rollercoasters that he sabotages. The opening scene is a slick and frightening sequence as we see a rollercoaster literally collapse before our eyes. George Segal plays a park inspector who unwittingly becomes an ally to the killer (nicely played by Timothy Bottoms). The middle section of the film is a mano y mano between the two as Bottoms runs Segal all over an amusement park where a money exchange is supposed to be made. One of the best moments is when Segal finds out where the bomb Bottoms has planted is hidden. The performances are all solid. Segal plays his part with a nice 'everyman' quality that makes him easily relatable. It is nice to see him living in an apartment that is reasonably sloppy. It is also fun to watch him ride a roller coaster. While everyone else is screaming and stretching their arms into the air he just sits right in the front car looking bored. Widmark is equally as good and possibly at his most gruff and abrasive. The sparing relationship that he has with Segal is entertaining. The intricate cat and mouse game that Segal plays with Bottoms isn't too bad either. There are a few impressive shots where the camera is mounted on the front roller coaster car and then is glided along the tracks at high speeds giving the viewer of a very realistic feeling of actually being on a roller coaster. Overall I would recommend it to fans of 70's cinema and to whoever appreciates a good popcorn movie.
David Ladd
Super Reviewer
Rollercoaster Quotes
There are no approved quotes yet for this movie.