Road House
(1989)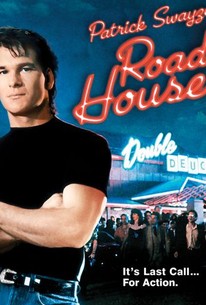 TOMATOMETER
AUDIENCE SCORE
Critic Consensus: Whether Road House is simply bad or so bad it's good depends largely on the audience's fondness for Swayze -- and tolerance for violently cheesy action.
Movie Info
Dalton (Swayze) is a true gentleman with a degree in philosophy from NYU. He also has a flip side - he's the best bar bouncer in the business. When Dalton's brought in to clean up the Double Deuce, a popular establishment that become particularly rowdy, his calm is put to the test by the town bully.
News & Interviews for Road House
Critic Reviews for Road House
Audience Reviews for Road House
No matter what you're expecting, this film is beyond expectations, and that is not a good thing. Veiled in the guise of a simple film about a man who cleans up a bar while working as a cooler (head bouncer), this film takes a lot of strange twists and turns and becomes something altogether ugly and laughably horrible. The lead character is relentlessly hypocritical, having a PhD of unclear origins, a glossed over love of Tai Chi, and yet an obsession with cutting up bad guys and vagrants alike. Dalton (Swayze) comes to a small town in Kansas, teaches some bouncers what to do, and then helps starts a yuppie blues bar. There is a villain to this story, and he is the most hedonistic, disgusting, devilish man to be on screen since the age of the fifties' B-movie. He kills, tortures, and maims, threatens everyone even associated with the bar, and yet doesn't get caught for his actions because he has "ties with the police." The things he gets away with are tantamount to a drug kingpin with a small rebel army, and yet he only has several crooks. Most of this heavy-handed and far too long film revolves around Dalton fighting bad guys, avenging friends and co-workers, and falling in love with, and awkwardly making love to, a local doctor. They literally meet one time, and the next meeting they have one of the most strange love scenes, comparable only to "Showgirls". This shifts to a revenge flick as the man controlling the entire town (Gazzara) starts a vendetta against this Dalton, who isn't the owner of the bar, doesn't have much control over how the town is run, and though starts dating this villain's crush, doesn't throw it in his face. The last thirty minutes is all out violence, murder, arson, and senseless baiting by the villain. It devolves quickly, and it easily earns its reputation as a movie that is harsh to watch, and simple to make fun of.
Spencer S.
Super Reviewer
Some might call Road House one of the worst movies ever made, and they would be both right and wrong in that estimation. The movie is a conundrum, because it's entertaining on the most basic of levels but yet you still want to hate on it. It's actually got all the classic 80's ingredients (big hair, strippers, monster trucks, etc) and it's got a sort of western vibe with the hero coming to town to save it from an evil overlord, but it just doesn't really work all that well... but yet it does. I can't say that it's amazing or a classic, but it's definitely an interesting watch - and somewhat entertaining.
Tim Salmons
Super Reviewer
Patrick Swayze kicks serious ass in this movie where he plays a cooler at the Double Deuce, Dalton. Awesome 80s music and and awesome cast consisting of Kelly Lynch, as Elizabeth Clay who Dalton falls in love with and Sam Elliott who plays Wade Garrett, Dalton's best friend who works at the old bar he used to work at, Band Stand. Among them there are also Red Webster (played by Red West) and Emmett (played by Sunshine Parker). Then there's Ben Gazzara who plays the villein Brad Wesley, a money hungry man who's out to destroy Dalton's life. A great movie, with a very revengeful ending, Road House is definitely a movie that you want to see! :) :) :)
Cassie Hill
Super Reviewer
Road House Quotes
There are no approved quotes yet for this movie.