Risky Business
(1983)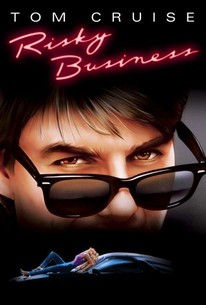 TOMATOMETER
AUDIENCE SCORE
Critic Consensus: Featuring one of Tom Cruise's best early performances, Risky Business is a sharp, funny examination of teen angst that doesn't stop short of exploring dark themes.
Movie Info
Risky Business is the film in which 19-year-old Tom Cruise dances around his living room in his underwear. He does this to celebrate the fact that his parents have left him alone while they go on vacation. Somewhere along the line, hooker Rebecca De Mornay, fleeing her vicious pimp, hides out in the Cruise manse. Things go from bad to worse to as Cruise inadvertently drives his father's Porsche into Lake Michigan and nearly scuttles his college recruitment interview. ~ Hal Erickson, Rovi
News & Interviews for Risky Business
Critic Reviews for Risky Business
Audience Reviews for Risky Business
Miles: Joel, you wanna know something? Every now and then say, "What the fuck." "What the fuck" gives you freedom. Freedom brings opportunity. Opportunity makes your future.  "There's a time for playing it safe and a time for Risky Business." Risky Business is one of the definitive 80's movies. It features a young Tom Cruise in one of his career defining and career starting films. This is a classic 80's film with a lot of sex and a lot of style. It's also one of the better teen comedies out there. The movie is smart, funny, honest, and really good. The plot, while not likely, still makes a lot of sense when you examine the teenage boy. We're horny, stupid, and crazy. Combine those three and you have a rough combination there. That's what Joel does when his parents leave for vacation. His whole life, he has lived by the rules. He's worked hard in school and in his extracurriculars, so that he can fulfill his dads dream of him going to Princeton. So when Joel finally he gets a little freedom, he says "What the fuck?"  Let's be honest, every guy out there can sympathize with Joel. We are him. When our parents left the house when we were in high school, it would go a lot like this. "Don't have anyone over" "No parties" Don't drive my car" To which we responded, "Okay, you can trust me." Bull Shit. The minute they were gone we were cruising in their car and calling up all of the friends we could think of. In the same way that is what Joel is doing in Risky Business. He's having a good time just like every teenager does. The only problem with it, is it got way out of hand and way over his head.The best thing about Risky Business is that it does make every guy think back to all the stuff he did in high school. You can really connect with a lot of what's going on in the movie. Maybe just not to that extreme though.  Risky Business really is a must watch. It transcends being just another teen comedy. It ends up being a drama/comedy/romance all in one. There's scenes of pure brilliance such as the one between Cruise and De Mornay on the train. It's one of those movies that bring back the teenage days so well and with a lot of honesty. 
Melvin White
Super Reviewer
An entertaining and interesting movie; nothing more to be said. The movie will keep you entertained even though the movie delves into dark and troubling themes. One thing to be mentioned is the score; it fits perfectly within every scene. The editing could've been sharper but I give it the benefit of the doubt for it is an older movie. Acting is great.
½
"Risky Business" represents the 80's teen genre with style, as a a teenager has the house to himself when his parents leave for vacation. His friends tell him that he owes himself a good time, so he ends up having a one-night-stand with a hooker who inevitably steals a very expensive crystal egg off his families mantlepiece. His life just get's worse from here on out, by having his father's car slide into the lake and almost blowing his entire college interview. I must say that this film knows when to be subtle and good hearted and it knows when it is the right time to make you laugh. Tom Cruise is very cool in one of his very first theatrical roles, and the classic underwear scene will never tire. The acting is fun, the outfits fit the film perfectly, the plot line brings out the true events of the 80's, and by the end of the movie, I was either feeling happy when he was or sad when he was. My only complaint is that there are a few too many moments where it is a little too dramatic for the type of film that it is meant to be, but all-in-all, this is one of my favourite teen films!
Risky Business Quotes
There are no approved quotes yet for this movie.