Rear Window
(1954)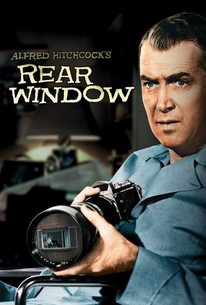 Movie Info
Laid up with a broken leg, photojournalist L.B. Jeffries (James Stewart) is confined to his tiny, sweltering courtyard apartment. To pass the time between visits from his nurse (Thelma Ritter) and his fashion model girlfriend Lisa (Grace Kelly), the binocular-wielding Jeffries stares through the rear window of his apartment at the goings-on in the other apartments around his courtyard. As he watches his neighbors, he assigns them such roles and character names as "Miss Torso" (Georgine Darcy), a professional dancer with a healthy social life or "Miss Lonelyhearts" (Judith Evelyn), a middle-aged woman who entertains nonexistent gentlemen callers. Of particular interest is seemingly mild-mannered travelling salesman Lars Thorwald (Raymond Burr), who is saddled with a nagging, invalid wife. One afternoon, Thorwald pulls down his window shade, and his wife's incessant bray comes to a sudden halt. Out of boredom, Jeffries casually concocts a scenario in which Thorwald has murdered his wife and disposed of the body in gruesome fashion. Trouble is, Jeffries' musings just might happen to be the truth. One of Alfred Hitchcock's very best efforts, Rear Window is a crackling suspense film that also ranks with Michael Powell's Peeping Tom (1960) as one of the movies' most trenchant dissections of voyeurism. As in most Hitchcock films, the protagonist is a seemingly ordinary man who gets himself in trouble for his secret desires. ~ Hal Erickson, Rovi
News & Interviews for Rear Window
Critic Reviews for Rear Window
Audience Reviews for Rear Window
Definitely a film intended to digest w/o much thought, a sensation thrill ride, as a laid-up-due-to-injury photographer realizes his neighbor may have killed his wife. Start thinking and questions bubble up on their own: like why is a 20 year old babe with a guy twice her age? A guy who spends his time eyeballing his we-keep-our-windows-open neighbors, "but we don't notice a guy with binoculars watching us." And there are other problems, but ignor the obvious snafus and the suspense will electrify.
Kevin M. Williams
Super Reviewer
Rear Window is regularly listed with the greatest movies ever made. Certainly one of Hitchcock's finest. In addition to the exceptional chemistry between star James Stewart and a radiant Grace Kelly , there's Raymond Burr as salesman Lars Thorwald with his hair dyed white to make him appear older. When his invalid wife disappears, Jeff suspects foul play might be involved. The setting is a fascinating tableau. Virtually the entire feature is shot from Jeff's gaze looking out into the open courtyard into the many windows of his neighbors. Each residence is a set within itself, fully furnished. With few exceptions, the camera never leaves the confinement of Stewart's apartment. The setting can get a bit claustrophobic. Nevertheless it's a brilliantly assembled theatrical piece right down to the heart-pounding climax . Hitchcock's brilliance as a director has never been questioned and with Rear Window, his abilities as a visual storyteller remain unparalleled. fastfilmreviews.com
Mark Hobin
Super Reviewer
Masterful Hitchcock motion picture; filled with mystery, humor, suspense and a fluid direction. Rear Window is a classic film led by James Stewart and comprised of plenty of homages to American cinema in the mid-1900s. 4/5
Eugene Bernabe
Super Reviewer
Rear Window Quotes
There are no approved quotes yet for this movie.