The Rare Breed
(1966)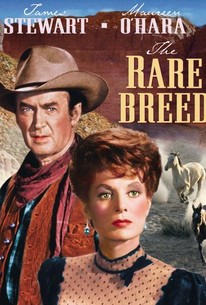 Movie Info
Andrew V. McLaglen directs the Western drama The Rare Breed, based on the real-life introduction of English Hereford cattle to the American West in the 1880s. Maureen O'Hara plays Martha Price, an widowed Englishwoman who convinces rancher Alexander Bowen (Brian Keith) to use her new cattle breed. James Stewart stars as ranch hand Sam Burnett, a rambler who agrees to take the rare bull to Texas in order to breed it with the longhorns. He also accepts a bribe along the way from the lawless Taylor (Alan Caillou). The determined Martha and her daughter Hilary (Juliet Mills) demand to go along for the trip, leading to Burnett having to rescue them from several bouts of Western-style danger. Soon Bowen loses faith in the breeding idea, but Burnett has grown to believe in the bull. The bull dies after the harsh winter, but Burnett saves one of its calves. He and Martha decide to start their own cattle ranch. Meanwhile, Hilary begins a romance with Bowen's son Jamie (Don Galloway). Also starring Jack Elam as swindler Deke Simons.
Critic Reviews for The Rare Breed
Audience Reviews for The Rare Breed
Your average James Stewart Western, but with some decent little things here and there. Despite his age, James does a surprising bit of brawling and wrangling. I would consider this a superior western than the likes of Night Passagey, but only just.
Paris Smith
Super Reviewer
½
Average western with Brian Keith giving a ridiculously over the top performance in what must be the worst red wig ever seen in a movie. Otherwise the stars turn in their usual professional jobs but there is nothing out of the ordinary here.
The Rare Breed Quotes
There are no approved quotes yet for this movie.