The Postman Always Rings Twice
(1981)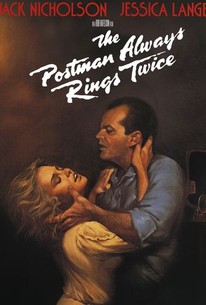 The Postman Always Rings Twice Photos
Movie Info
Bob Rafelson's remake of 1946's The Postman Always Rings Twice, with a screenplay by the award-winning playwright David Mamet, stars Jack Nicholson as Frank Chambers, a depression-era drifter who ends up at a diner run by Nick Papadakis (John Colicos), who offers Frank a job. Frank takes him up on the offer, but quickly begins a torrid affair with Nick's wife Cora (Jessica Lange). The adulterous lovers soon hatch a plan to kill Nick and share in the insurance payout. The second big-screen adaptation of the James M. Cain novel, the film garnered a certain degree of notoriety for the explicit sex scenes between Lange and Nicholson.
Critic Reviews for The Postman Always Rings Twice
Audience Reviews for The Postman Always Rings Twice
Nicholson plays a drifter closely rooted to his basic animalistic tendencies. Lange plays a similar type of woman, currently pretending otherwise. When they meet there's never a question, not for a moment, about their hooking up. That she's a married woman seems only the slightest of distractions. But what to make of these two? Rafelson doesn't seem to know, and neither does Mamet. The Greed angle of this morality play is downplayed (if not totally forgotten) and that exclusion hamstrings this effort. The two leads are magnetic enough, revelling in the Lust angle, but they simply aren't going anywhere past that. In retrospect, and if I were a gossip columnist, I'd guess that this film was put together simply legitimize Nicholson banging Lange and Huston. The effort feels as sordid as all that.
Kevin M. Williams
Super Reviewer
What is most striking about this film are the performances by the leads. I've grown up taking for granted the fact that Jack Nicholson is a great actor with only a few of his contemporary performances serving as meaningful evidence, but here, in his younger days, Nicholson proves to be a master of smarmy, sleazy subtlety. Jessica Lange is at times vulnerable and at others succeeding in her attempt to be blisteringly alluring. The film's "love" - or should I say animalistic fucking - scenes also serve as the film's appeal, but I found myself more repulsed than aroused. Finally, David Mamet's script is quite strong, but this is not the Mamet of Oleanna and Wag the Dog. Rather, this is the Mamet of The Verdict, a Mamet who relies on subtext more than acerbic dialogue. For example, he writes, "I'm tired of doing the right thing." Pause. "They hang people for that, Cora." It's up to the actors to imbue these lines with meaning, and these actors are up to the task. The film's flaw is the storyline. At the end, we wonder what the film is saying about these characters. It seems that they reach their conclusions out of moralistic fatalism, not out of any authorial or directorial intent. Compare this film to There Will Be Blood, which deals with many of the same themes sans sexuality, and you'll find that Paul Thomas Anderson has a clear vision and feeling about Daniel Plainview, but the same can't be said of these characters. What is more, there is a short subplot with Anjelica Huston, and in the words of Roger Ebert, she seems "to be visiting from another movie." Overall, if you can look at this film as a collection of scenes from an acting class and divorce yourself from the need of a consistent story, The Postman Always Rings Twice is a good film.
Jim Hunter
Super Reviewer
When you're trying to find a true Neo-Noir, this is hard to beat. Not only does it keep the safe feel and raunchy plotline as most Film Noirs of the late 30s and 40s, but it's also a very well composed re-imagining of one. David Mamet beautifully adapts a decent script into a complete masterwork. It has all the great ingredients that make people love the movies. The look of the film is amazing as well, with a lot of great period sets, costumes and cars. You also get a real sense that you're there with these characters. Bob Rafelson does another great job at directing flawless performances and capturing humans at their best and at their worst. I don't think you can get better than Jack Nicholson when it comes to shady characters, he captures Frank Chambers perfectly. While you ultimately side with him and relate to his views, he truly is a vile person. What makes it great is Jack Nicholson's deranged sense of charm, which surprisingly works every time. Jessica Lange also gives quite possibly her best performance, definitely the most natural she's ever been. What I love most about this movie is the fact that the story is so incredibly fun and you become so invested with these two characters who want nothing but trouble. I think it's great when a film can make you side with the villains, most of the time they're the most interesting ones anyway. Even through all their bad deeds, they still manage to engage you and make you fall in love with them.
Conner Rainwater
Super Reviewer
The Postman Always Rings Twice Quotes
There are no approved quotes yet for this movie.