The Poseidon Adventure
(1972)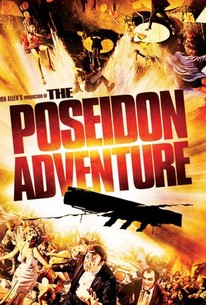 AUDIENCE SCORE
Critic Consensus: The Poseidon Adventure exemplifies the disaster film done right, going down smoothly with ratcheting tension and a terrific ensemble to give the peril a distressingly human dimension.
The Poseidon Adventure Photos
Movie Info
The Poseidon, an ocean liner larger than the Queens Elizabeth and Mary combined, is charting its course on New Year's Eve. Just after midnight, Captain Harrison (Leslie Nielsen) spots the mother of all tidal waves. It is the last thing that Harrison and practically everyone else onboard sees before drowning -- the Poseidon is turned upside down, with only a handful of survivors. The ten lucky ones -- including Mike Rogo (Ernest Borgnine), Linda Rogo (Stella Stevens), Acres (Roddy McDowall), Belle Rosen (Shelley Winters), and Manny Rosen (Jack Albertson) -- led by no-nonsense minister Frank Scott (Gene Hackman), desperately attempt to climb from the top of the ship (now submerged) to the bottom (now "the top"). The film's theme song, "The Morning After," sung by Maureen McGovern, earned an Oscar. In addition, The Poseidon Adventure received the Special Achievement Award for Special Effects; L.B. Abbott and A.D. Flowers were the recipients. A sequel, Beyond the Poseidon Adventure, came out in 1979. ~ Hal Erickson, Rovi
News & Interviews for The Poseidon Adventure
Critic Reviews for The Poseidon Adventure
Audience Reviews for The Poseidon Adventure
½
It is irritating that nearly every female character is shown as weak or hysterical, but this is an entertaining disaster movie that can be quite tense sometimes and has a superb production design, nice action scenes and a great cast made up of mostly Oscar-winning actors.
Carlos Magalhães
Super Reviewer
½
While the "disaster flick" moniker certainly applies, here is actually a pretty good adventure tale of escape as a old luxury liner capsizes, forcing an intrepid few to attempt their own rescue through the ravaged remains of the topsy turvy steel boat. A guilty pleasure!
Kevin M. Williams
Super Reviewer
Incredible, i saw this movie at a screening in Chicago, where three of the actors from the movie were there, Stella Stevens, Ernest borgenine, and someone else but i dont remember her name. I wasn't expecting much from this movie but i was blown away by how spectacular it was. It was very realistic, the drama was so human, that it was spectacular. The actors all played fantastic roles, and the movie really had guts to kill off 5 main characters. Plus when one of them dies, the husband of said dead person (played by grandpa joe from willy wonka) said her name and weeped over her body i burst into tears, and i did that several times in this movie. And i liked it better than titanic for two reasons, one it has more main characters that you like so much that you don't want them to die, and two i personally think that it was better because of how it got straight to the punch, and not have to wait for 2 hours just waiting for the iceberg to hit, because like 20 minutes in it just smacks you with the ship turning over by an unexpected tidal wave after an earthquake. It shows how these 13 people (about 100 didnt go with) have to struggle with each other in order to get out of the ship and find safety, and you latch on to each of the characters as the movie progresses.
Michael Edwards
Super Reviewer
The Poseidon Adventure Quotes
There are no approved quotes yet for this movie.