Of Human Bondage
(1934)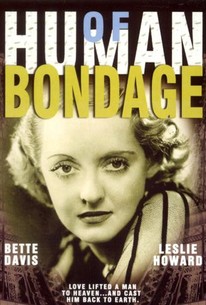 Movie Info
This film stars Leslie Howard as sensitive, clubfooted artist-cum-med student Philip Carey. Despite his yearnings for the finer things in life, Carey cannot extricate himself from a mutually-destructive relationship with waitress Mildred Rogers. After an incredible series of emotional disasters, Carey finally finds happiness in the arms of Sally Altheny.
Critic Reviews for Of Human Bondage
Audience Reviews for Of Human Bondage
Were you or someone you know ever involved in a lopsided relationship? Where one party knew the other loved them more than they felt and so used the person most inconsiderately? Bette Davis, all hungry vampire-eyes-set-to-kill is a low-class strumpet who sees imminent financial possibility in Leslie Howard's middle class nebbish, who merely suspects that he's being played but can't quite believe that anyone would ever do such a thing (much less his beloved) and is thunderstruck that he himself would allow himself to be played so untruthfully. Like an auto accident on the freeway, you won't be able to take your eyes away.
Kevin M. Williams
Super Reviewer
The electrifying, larger than life persona of Bette Davis and her big swollen eyes are enough to captivate Leslie Howard's poor but well meaning sap, and film lovers like myself too. A compelling melodrama about unrequited love, obsession, excess of candidness, and punishment.
Pierluigi Puccini
Super Reviewer
½
I must have watched the worst copy of this going - one of those $2 store jobs with scratchy sound and picture, lines, blotches, you name it, and I still found this compelling. I can only imagine what it must be like to watch it properly. I think I will have to track down a decent copy online and I must check the book out too as apparently that was much more detailed. Bette Davis plays a horrible, but beautiful woman with a grating English accent (other reviewers seemed to think it was accurate). I could see how Philip kept falling for her even though she was absolutely heinous! The scene where she is screaming at him that she wiped her mouth every time he kissed her was especially awful. This would be one of my favourite older movies so far, can't believe I had this dvd for about two years and only just watched it!
Nicki Marie
Super Reviewer
Of Human Bondage Quotes
There are no approved quotes yet for this movie.