The Manchurian Candidate
(1962)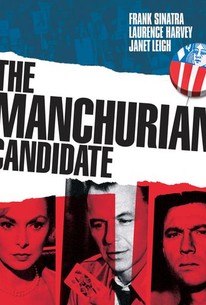 TOMATOMETER
AUDIENCE SCORE
Critic Consensus: A classic blend of satire and political thriller that was uncomfortably prescient in its own time, The Manchurian Candidate remains distressingly relevant today.
The Manchurian Candidate Videos
The Manchurian Candidate Photos
Movie Info
A U.S. Army hero returns to New York from Korea, but has been mysteriously programmed by Communists to assassinate a presidential nominee, but when his Army buddy becomes suspicious of the goings on, he is on the trail to stop him.
News & Interviews for The Manchurian Candidate
Critic Reviews for The Manchurian Candidate
Audience Reviews for The Manchurian Candidate
Beyond its subject matter this terse political thriller still holds up even fifty years later, surrounded in secrecy, with some outstanding and unparalleled performances. Set in the midst of the Cold War, this film is much less about the political and sociological aspects of its infamy and much more about the contemplative and cruel nature of an overseer in control of a single man. Instead of being about the threat of the "Oriental" this film delves into the political thrills of mind control, brainwashing, and assassination. A contingent of soldiers in the Korean War is captured by the enemy, and one of their leaders is made into a ticking time bomb. The rest of the soldiers are also brainwashed, and as their training comes back to them in a series of horrific dreams the threat from zombified Shaw (Harvey) becomes ever present. Shaw is lauded as a war hero, but his commanding officer Marco (Sinatra) knows the truth, and though he can't confront the ticking time bomb, he knows how powerful and dangerous he is. For a film made before Watergate it expertly addresses government intervention, conspiracies, and the threat overseas. That is also not to say that there isn't any Cold War paranoia attributed to this iconic film, but it's much more about the relationships that are built around Shaw, and how the bossy commanding officer eventually thaws under his nosy mother's gaze; and in memory of his former love. Both he and Marco try to foil the plan to use him as a weapon, but the film is more about Shaw pushing against his fate and finally being happy, and the conniving evil wrong doings of his mother. His mother, by the way, is played by Angela Lansbury, at the time only six years older than Laurence Harvey. In this role Lansbury plays the most diabolical, politically conniving villain in film history, and she is completely unapologetic about her crimes against the government, and even her own son, who she uses as a pawn in her elaborate game of political chess. Not only does this film address Cold War tensions, but also speaks on McCarthyism just ten years prior and on the type of people who would make such baseless accusations. This film is not only a timely political thriller but also a satire on our history and the bonds of anti-Communist propaganda that landed the US into the Cold War in the first place, a risky choice in a time when tensions were high.
Spencer S.
Super Reviewer
Not my cup of tea, classic-movie wise.
The Manchurian Candidate may be the greatest movie I've ever seen, and I'm prompted to review it due to its rating in newspapers of 3 and-a-half out of 4 stars. That's simply unsatisfactory, so I'll do my best to justify a perfect score. Maybe most significant for me, the brainwashing plot in which the far right becomes a tool of the far left, was utterly fantastic yet made to be believable in 1962 and remains so today. Though the cold war is long over, The Manchurian Candidate remains fresh, vibrant, and relevant in today's geopolitical world. The performances by Angela Lansbury, Laurence Harvey, and Frank Sinatra are some of the most riveting ever, particularly Lansbury's. She must be the most evil mother in cinematic history. Its a nightmare fantasy, shared in the movie by Sinatra's character and fellow soldier James Edwards' Corporal Melvin, which nearly succeeds in in a communist coup d'état in America. The movie lampoons McCarthyism, displaying a wry humor, while ramping up the dramatic tension to a terrific climax. The comedy is supplied by James Gregory as the cartoonish husband/senator John Iselin and the KGB operative in New York. His interaction with the Chinese doctor is priceless. There's nothing funny about Lansbury's mother character or Harvey's Raymond Shaw, who is transformed into a brutally efficient killing machine. Sinatra, though as Maj.Marco, is the glue who holds the story together. In my opinion, this is his finest acting role. As a side note, in the karate fight between Sinatra and Henry Silva, Sinatra broke his hand leading to years of complications. Flawless in every aspect, The Manchurian Candidate sets the standard for political drama.
Clintus Maximus
Super Reviewer
The Manchurian Candidate Quotes
There are no approved quotes yet for this movie.