The Maltese Falcon
(1941)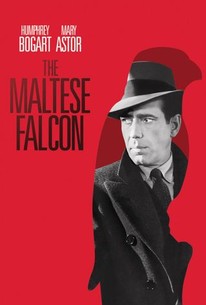 TOMATOMETER
AUDIENCE SCORE
Critic Consensus: Suspenseful, labyrinthine, and brilliantly cast, The Maltese Falcon is one of the most influential noirs -- as well as a showcase for Humphrey Bogart at his finest.
The Maltese Falcon Photos
Movie Info
After two previous film versions of Dashiell Hammett's detective classic The Maltese Falcon, Warner Bros. finally got it right in 1941--or, rather, John Huston, a long-established screenwriter making his directorial debut, got it right, simply by adhering as closely as possible to the original. Taking over from a recalcitrant George Raft, Humphrey Bogart achieved true stardom as Sam Spade, a hard-boiled San Francisco private eye who can be as unscrupulous as the next guy but also adheres to his own personal code of honor. Into the offices of the Spade & Archer detective agency sweeps a Miss Wonderly (Mary Astor), who offers a large retainer to Sam and his partner Miles Archer (Jerome Cowan) if they'll protect her from someone named Floyd Thursby. The detectives believe neither Miss Wonderly nor her story, but they believe her money. Since Archer saw her first, he takes the case -- and later that evening he is shot to death, as is the mysterious Thursby. Miss Wonderly's real name turns out to be Brigid O'Shaughnessey, and, as the story continues, Sam is also introduced to the effeminate Joel Cairo (Peter Lorre) and the fat, erudite Kasper Gutman (Sydney Greenstreet, in his film debut). It turns out that Brigid, Cairo and Gutman are all international scoundrels, all involved in the search for a foot-high, jewel-encrusted statuette in the shape of a falcon. Though both Cairo and Gutman offer Spade small fortunes to find the "black bird," they are obviously willing to commit mayhem and murder towards that goal: Gutman, for example, drugs Spade and allows his "gunsel" Wilmer (Elisha Cook Jr.) to kick and beat the unconscious detective. This classic film noir detective yarn gets better with each viewing, which is more than can be said for the first two Maltese Falcons and the ill-advised 1975 "sequel" The Black Bird. ~ Hal Erickson, Rovi
Critic Reviews for The Maltese Falcon
Audience Reviews for The Maltese Falcon
½
beneath the slick, fast talking and hard-boiled mystery story, and behind the many shady and diverse characters, is an interestingly told dilemma for our protagonist that's as modern today as it always has been, namely: how to stay true to myself, keep my own moral code, in this morass of selfishness that is life in society. by the end of the story we see the self assured star actually has been covering up a torment of conflicting emotion, and is as human as the rest of us. Director/writer john Huston surely turns in a exemplary work of drama, lust, greed, corruption, backstabbing, and all the usual standbys of life on planet earth, with a sure hand and eye.
Kevin M. Williams
Super Reviewer
½
Bogart is perfect as an arrogant detective who tries (along with us) to make heads and tails of an extremely intricate and dizzy affair, and the best thing is that it has an incredibly well-constructed plot in which all of the pieces fit in the end leaving no loose ends.
Carlos Magalhães
Super Reviewer
The Maltese Falcon is highlighted by a character study of contrasting personality types. People wrestle with greed, deception, and loyalty. Humphrey Bogart is conflicted by darker desires. He's more of an antihero as the lead. Cynical and hard-hearted - he doesn't seem overly troubled by his partner's death, removing his fellow associate's name on the business door while the body is still warm. Nevertheless Bogart exemplifies cool collected style as the self-assured gumshoe. Mary Astor is captivating as the requisite femme fatale. She initially appears fragile, but looks can be deceiving. Then there's a colorful trio of shady individuals. 61 year old stage actor Sidney Greenstreet surprisingly making his feature debut here as "The Fat Man". He was Oscar nominated for his supporting role. Yet Peter Lorre is just as iconic as the effete Joel Cairo. Joel is no match for Spade. "When you're slapped, you'll take it and like it," Spade rebukes him. Elisha Cook, Jr. is the lightest heavy of the three. He provides some much appreciated comedic relief. At times, the set-bound action almost resembles a play. The movie is talky to say the least. Scenes are inundated with words, overstuffed even. But oh what dialogue! John Huston's Oscar nominated screenplay is so meticulously composed, you'll marvel at its construction. It demands repeat viewings to take it all in, but it only gets better with age. fastfilmreviews.com
Mark Hobin
Super Reviewer
The Maltese Falcon Quotes
There are no approved quotes yet for this movie.