Love on the Run (L'Amour en fuite)
(1979)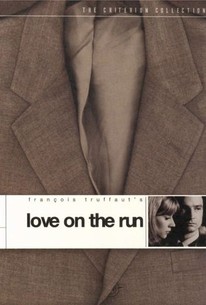 Movie Info
L'Amour en Fuite (Love on the Run) is presented in flashbacks from the previous four movies as Antoine Doinel (Jean-Pierre Léaud) meets up with people from his past. As the fifth and final film in the series, Antoine is over 30 years old and meets with his wife, Christine (Claude Jade), to sign the papers for their divorce. As it is the first no-fault divorce of its kind in France, the press surrounds them. In the crowd is also Antoine's past love, Colette (Marie-France Pisier), who is now a lawyer and in love with Xaiver the Librarian (Daniel Mesguich). Antoine is in love with Sabine (Dorothée), but she breaks things off when he ditches her to go see his son at the train station. While he is there, he impulsively joins Colette on a train ride where they recall their past and go through his recent autobiographical novel. Finally, Monsieur Lucien (Julien Bertheau) also re-enters Antoine's life and they visit his mother's grave at Montmartre. ~ Andrea LeVasseur, Rovi
Critic Reviews for Love on the Run (L'Amour en fuite)
Audience Reviews for Love on the Run (L'Amour en fuite)
½
I dislike when sitcoms do "clip shows" too.
Eric Broome
Super Reviewer
½
Being the last film about Antoine Doinel´s life and knowing that Truffaut didn´t like it, some choices are understandable, but it is the less interesting of the series. The flashbacks are enjoyable, specially if you saw all the fims; they bring kind a feeling of nostalgia and the happenings between them add a bit.


Rubia Carolina
Super Reviewer
Each film in the Doinel series was not quite as good as the one before it. I liked to reminisce about the great moments from the past films, but that's all this film is: Truffaut patting himself on the back for his previous work.
Love on the Run (L'Amour en fuite) Quotes
There are no approved quotes yet for this movie.