Long Day's Journey Into Night
(1962)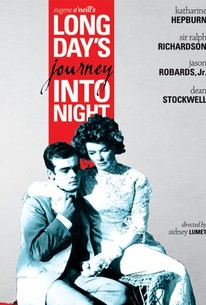 Long Day's Journey Into Night Photos
Movie Info
Playwright Eugene O'Neill sold Random House the text of his intensely autobiographical 1941 play on the proviso that the play not be produced during O'Neill's lifetime. Two years after the playwright's death in 1953, the play was given its first Broadway staging and won a Pulitzer Prize. Set in 1912 New England, the story takes place in the summer home of aging actor James Tyrone (Ralph Richardson) and his family. Tyrone, patterned after Eugene O'Neill's father James O'Neill, has long abandoned any aspirations to be a truly great actor, choosing instead to tour in the same weary stage vehicle year after year. Thanks to an earlier act of stinginess on Tyrone's part, his wife Mary has turned into a rambling morphine addict, with little or no contact with reality. Oldest son Jamie is a troublemaking alcoholic, envious of the writing talent of sickly younger brother Edmund (the Eugene O'Neill counterpart). The long's day journey concludes with a hellish night in which the three Tyrone men sit about drunkenly as Mary Tyrone hallucinates about her younger, happier days. Katharine Hepburn emerged from a three-year retirement to essay the back-breaking role of Mary Tyrone; Ralph Richardson exhumed all the "ham" of his student-actor days to portray the pathetic James Tyrone; Jason Robards Jr., a man seemingly put on this earth to interpret O'Neill, repeats his Broadway role as Jamey; and Dean Stockwell adds one more superb characterization to his gallery of portrayals as the tubercular Edmund. ~ Hal Erickson, Rovi
Critic Reviews for Long Day's Journey Into Night
Audience Reviews for Long Day's Journey Into Night
Extremely well acted filmed version of the Eugene O'Neill play. The problem is that there is so much going on and so much character drama that it is a little draining. It's like Magnolia if it was still three hours and happened at one house. Jason Robards is fantastic and I loved the stuff between him and Dean Stockwell who is also great. Hepburn has her moments, but some of it seems overacting to say the least. Interesting because it's one of Lumet's first and the camera movement keeps you interested.
½
"long day's journey into night" is faithfully adapted from eugene o'neill's semi-autobiographical play which is also his greatest work alive, and it deepens further upon katherine hepburn's prestige as a versatile accomplished actress since she again receives academy award nomination for it. frequently i tackle into the issue of purist notion of dialogue-driven movies as the supreme essence of cinema, and "long day's journey into night" would be a perfect exemplification with a masterful script as well as its refined stagy casting. but the film lacks public appeal due to its thick element of constant dialogue-focus as well as its unflattering 3 hour screen time, to enable the film's production, hepburn had to reduce her own payment for this exasperatingly heavy role, and she made it but under one condition: the movie has to be meticulously devout to its original play. the story's basically about the collapse of a problematic family addled with morphine addiction, alcoholism, capitalist money-slavery, unreconciled pessismism upon death gravitated by consumption illness. the sceneries whirl around the haunting phatom of past memories as the fog forshadows every misery into the belligerent darkness of nightmarish hell, each character imprisioned by his/her tragic flaws and the unredeemed mistakes made in the past. dean stockwell who plays the youngest son inflicted with consumption demonstrates an amazing horrowingly melancholic attribute which could emulate james dean, whose youthful good looks inspires your ideal personification of a depressed poet once as he frowns. the flick has a strong claustrophic atmosphere with fixed backset and four steady actors constantly upstaging each other with the uncanny puncturality. if you're a cinema purist with a virtue of patience to read into dialogues, "long day's journey into night" would be a gem to elaborate your mind's empathetic capacity for life's poetic sorrow of dacadence.
Veronique Kwak
Super Reviewer
It's so engrossing but EXHAUSTING to watch. It's good but I probably wouldn't watch it again because it made me so depressed during the entire three hours. Lumet is NO STOPS, man.
Jennifer Xu
Super Reviewer
Long Day's Journey Into Night Quotes
There are no approved quotes yet for this movie.