The Initiation
(1984)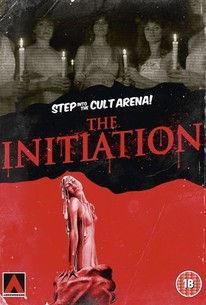 AUDIENCE SCORE
Critic Consensus: No consensus yet.
Movie Info
The appealing Daphne Zuniga makes her inauspicious debut in this dreary slasher film as a pampered freshman sorority pledge haunted by memory lapses and bizarre, violent dreams involving her parents (Clu Gulager and Vera Miles). Despite some progress in dream-research, her condition becomes dangerously unstable during a Hell Week initiation stunt -- held after hours in her father's shopping mall -- further abetted by the discovery that a psychopathic killer has escaped from the local asylum. It's no surprise to learn where said killer turns up next, nor is it much of a challenge determining the killer's identity (a clue: Zuniga's nightmares are actually repressed memories). The cast is summarily whittled down, courtesy of several sharp implements looted from various sporting goods and gardening departments, leaving the filmmakers to tie the loose ends together for the ridiculously contrived climax.
Critic Reviews for The Initiation
All Critics (4) | Fresh (1) | Rotten (3) | DVD (2)
107 minutes of witless nonsense, populated by performers who would look more at home in after-school specials, and filmmakers who ought to have been left stranded on the unemployment line.
offsets fun, funny co-eds (bolstered by Charles Pratt Jr's arch dialogue) against deep psychological traumas - and its duplicitous narrative ends with a twist that is hard to see coming, yet satisfies by playing studiously fair with the viewer.
The Initiation is the worst kind of bad movie in that it often seems like two entirely different bad movies mashed together into one ungainly chore.
Audience Reviews for The Initiation
I had a decent time with The Initiation and it seems to be one of the better early eighties slashers. Daphne Zuniga makes for a likable enough lead, she ain't no Jamie Lee Curtis but shes pretty engaging. Vera Miles and Clu Gallagher add a bit of star power, though neither have particularly big roles. The film is hampered by its first hour, in which too little happens and the initially intriguing dream based set up soon becomes a predictable and not well written enough. The film chugs along nicely though, pretty well directed with some creepy moments. Once the film finally locks down into slasher shenanigans, the film serves up some great stalking sequences in a good location (mall) and an pleasurably demented final twist. The killings range from ace to amusing to merely OK and a deal more gore would certainly not have gone amiss, especially given the quality of the build ups to the killings. The eerie score helps here. The film has enough blood to satisfy, but it could have gone further. There some fine nudity in here to round out the package, giving the film a great eighties feel. Altogether, if this were slightly gorier and tighter paced it could have been really special. As is, with a good body count, nudity, more fear than usual for the genre and a wacky and great fun finale, this is still happily recommended for slasher fans.
Cassandra Maples
Super Reviewer
a 1984 Slashed Flix, not real good but not real bad. Kelly Fairchild has to go through a College initiation, and a band of her friends start getting killed. Mellow Blood Scenes, some T&A and its surprising seeing full shot nudity in a relative mild film. Pay attention when watching this one, when girl gets shot with crossbow and the arrow goes in chest and comes out back about 2 inches lower, that's a cut no I mean a take we just don't have the money to shoot it over, Rotary dial phones were a trip. But only 3 stars, I picked it up in a Anchor bay 2 pack that comes with Mountain Motel massacre. A rental if I did it over again.
Bruce Bruce
Super Reviewer
Nice 80´s slasher with some good gruesome death scene, fairly well-done and good ending.
The Initiation Quotes
There are no approved quotes yet for this movie.