The Hound of the Baskervilles
(1959)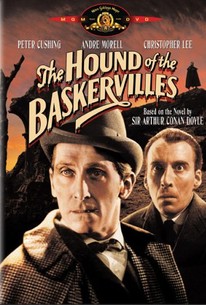 The Hound of the Baskervilles Photos
Movie Info
Sherlock Holmes (Peter Cushing) and Dr. Watson (Andre Morell) are summoned to investigate the murder of Sir Charles Baskerville. The family seems to be cursed because of previous ancestral crimes, and it is assumed Sir Henry may suffer the same fate as Sir Charles. The legend of the curse also tells of a murderous canine that stalks its victims in the shadowy moors that surround the Baskerville estate. This film is the first color feature of Sir Arthur Conan Doyle's legendary sleuth.
Critic Reviews for The Hound of the Baskervilles
Audience Reviews for The Hound of the Baskervilles
Hammer Films rally nailed it with this outstanding interpretation of the Conan-Doyle classic mystery. Just as the studio revolutionized the classic horror movie genre with its Dracula, Frankenstein, and Mummy movies, their fresh, all-color, and slightly gory (for the 1950s) version of this well-trod ground delivered a much needed update for Sherlock Holmes and company. Hamer's actors are brilliant here, in my opinion superior to the 1940s serials with Basil Rathbone. Peter Cushing is great, Andre Morell is also, and Christopher Lee delvers a character fans wouldn't recognize. Italian-born Marla Landi was a fortunate find; her accent and crazed mannerisms bring her plotting temptress character to life. The direction and especially cinematography is typical of Hammer, brilliant. The deviations from the book's plot, which you can read about in Wikipedia, only enhance the film. Often purists harshly critique film versions of famous novels, but no one should find any fault here. The film's climax, which I won't reveal, I believe improves on the original. In summary, Hammer's 1959 interpretation of this classic is one of the studio's best films and one of the best Holmes film adaptations. Highly Recommended!
Clintus Maximus
Super Reviewer
A Hammer Films Production, which is to say a little garish, loud, and predictable. But never dull.
Kevin M. Williams
Super Reviewer
½
Fantastic casting and superb direction make The Hound of the Baskervilles not only what I'm sure is one of the best Sherlock Holmes adaptations (actually, I'm nowhere nearly qualified enough to make that call -- this is the second Sherlock Holmes movie I've seen and I challenge you to guess what the first one was...) but one of the better Hammer productions. Given the talent involved, The Hound of the Baskervilles is everything you'd expect. Peter Cushing and Andre Morell are magnificent as Holmes and Watson and despite Christopher Lee's name in the cast, I wasn't too distracted by waiting for him to go bad and wasn't disappointed (um, spoiler alert) when he didn't. Really good stuff...
Michael Gildea
Super Reviewer
The Hound of the Baskervilles Quotes
There are no approved quotes yet for this movie.