The Hindenburg
(1975)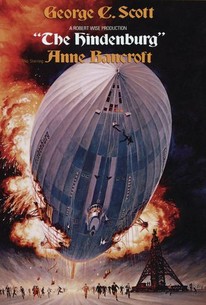 Movie Info
Speculating that the infamous zeppelin explosion was the work of Nazi terrorists, this drama chronicles the events leading up to the Hindenburg disaster of May 6, 1937.
News & Interviews for The Hindenburg
Critic Reviews for The Hindenburg
Audience Reviews for The Hindenburg
Underrated disaster film based on the real life 1937 disaster of the Hindenburg is very good entertainment for what it is. The film is far from perfect, but is much better than most disaster films of the era. Entertaining for what it is, the film relies on the sabotage conspiracy aspect of the disaster, suggesting that the airship was sabotaged. This plays out more like a popcorn disaster flick that ignores the facts, and that's the film's biggest weakness. I liked the film for what it was, but there were things that I didn't enjoy, such as the Gestapo trying to be the heroes and save the Hindenburg was out of place. I think it's sickening that they tried to make them the heroes of the film, and considering that Gestapo were a symbol of Nazi Oppression, they should never have put that in the film, and stuck to the facts. Facts are what make true disasters interesting to retell and captivate an audience, and I think they could have reworked some aspects of the film slightly to make it much more entertaining. Enjoyable, and flawed, The Hindenburg nonetheless is a good film and manages to overcome its flaws by culminating with a good climax. This film is very different than other films that appeared during this time because it was based on true events, and despite the fact that the film's plot was altered to try to give it more drama, this is a good film that should appeal to disaster film fans who are want something that really happened. The acting is pretty good for what it is, and there's enough to like here to make The Hidenburg a fun little flick to enjoy, a much underrated film that doesn't deserve all the flack it has received.
The Hindenburg Quotes
There are no approved quotes yet for this movie.