The Hidden Fortress (kakushi-toride No San-akunin)
(1958)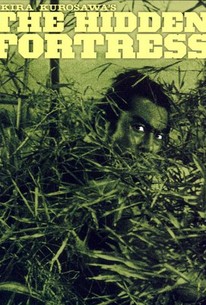 The Hidden Fortress (kakushi-toride No San-akunin) Photos
Movie Info
Two soldiers hide out in the woods from the invading army. They find a gold bar hidden in a tree, and the mood changes from brutality to humor.
News & Interviews for The Hidden Fortress (kakushi-toride No San-akunin)
Critic Reviews for The Hidden Fortress (kakushi-toride No San-akunin)
Audience Reviews for The Hidden Fortress (kakushi-toride No San-akunin)
A pair of bickering escaped slaves stumble upon the mountain hideout of a defeated general and his princess who are being hunted by the occupying army. They decide to join forces (with the added incentive of a horde of royal gold) to reach friendly territory. Hidden Fortress was probably the closest Kurosawa came to making a pure action/adventure film but he still had time to comment on the rigid class system by cleverly telling the story from the perspective of the lowliest characters. Widely acknowledged as the inspiration for Star Wars, it has also influenced a huge number of other stories including TV show Monkey, Hero and everything in between. The imagery is as gorgeous as you'd expect from Kurosawa, the characters brilliantly written and the performances all perfect, from Toshiro Mifune's commanding general, to the striking Misa Uehara as the noble but fiery princess. The two greedy and bad tempered slaves provide the comic relief and it has everything you could possibly want from an adventure; laughs, action, excitement and heroism. Yet another timeless story from a true genius.
If Japanese cinema icon Akira Kurosawa ever made a comedy of sorts, this is it. The Hidden Fortress follows two bumbling, stumbling, bickering peasants named Matashichi and Tahei -- the odd couple of samurai flicks -- on a cross country trek with a defeated general, a misplaced princess, and 200 gold pieces. No one could create the world of feudal Japan like Kurosawa and his seminal picture weaves action/adventure and comedy into a heavenly melange set against a ruthless, medieval civil war where honor and loyalty are compromised in the service of self-preservation. That Kurosawa was able to contemplate his usual cultural themes and make The Hidden Fortress the tremendous entertainer it is, is a testament to the director's uncanny virtuosity. George Lucas took notice and modeled much of his original Star Wars after the ground Kurosawa had tread in The Hidden Fortress -- a minor masterpiece by the legendary filmmaker, but possibly his most enjoyable.
Bob O'Reilly
Super Reviewer
To call this film a masterpiece is certainly an understatement. It is most prominently in film circles known as a direct inspiration for Star Wars, but I tend to leave those comparisons aside when viewing the actual film. It's just another round in the Kurosawa arsenal which was more powerful than any others at the time (and mostly today).
Tim Salmons
Super Reviewer
The Hidden Fortress (kakushi-toride No San-akunin) Quotes
There are no approved quotes yet for this movie.