Hells Angels on Wheels
(1967)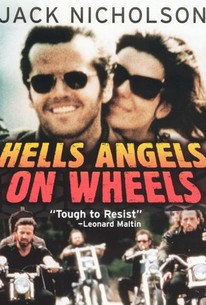 Movie Info
A bunch of hairy guys on Harleys are causing trouble again in this, one of the best-remembered examples of the biker flicks of the 1960's. Poet (Jack Nicholson) is a moody gas station attendant who is looking for more excitement in his life. When a gang of bikers roars through town, Poet is intrigued, and after he pitches in to help the Hell's Angels in a bar fight (and pulls a well-timed stick up), one of the gang's higher-ups, Buddy (Adam Roarke) asks Poet to join. Soon Poet is riding with the Angels and living their lifestyle of violent debauchery, but Poet begins to tire of their rootless decadence, and Buddy is none too happy with Poet when he learns they're both in love with the same woman. Hell's Angels On Wheels won a cult following for its agressive but languid atmosphere and the fluid camerawork of cinematographer Laszlo Kovacs (at this point still billed as "Leslie Kovacs"). Richard Rush directed, and legendary Hell's Angels leader Sonny Barger appears as himself.
Audience Reviews for Hells Angels on Wheels
Nicholson in a biker flick, how awesome is that? Can it get any better than that? I really liked this movie, the story is good, and I loved the ending too. I think Nicholson was better in this movie than in Easy Rider, really. If you like biker movies and/or Nicholson, check it out.
Hells Angels on Wheels Quotes
There are no approved quotes yet for this movie.