Gung Ho
(1986)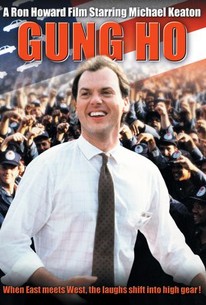 Movie Info
Michael Keaton stars as a wheeler-dealer who hopes to save a failing Pennsylvania automobile-assembly factory from having to close its doors. Keaton persuades a Japanese auto firm to reopen the factory, retrain its staff, and streamline the operation. It isn't long before the American-born workers grow to resent the disciplinary demands of their new Japanese bosses, setting the stage for a comic clash of cultures. The day is saved when it turns out that the poker-faced owner of the auto company possesses a really strange sense of humor. Gung Ho was later spun off into a short-lived TV sitcom, starring Scott Bakula of Quantum Leap fame.
Critic Reviews for Gung Ho
Audience Reviews for Gung Ho
½
Gung Ho is a brilliantly hilarious political satire from director Ron Howard. Starring Michael Keaton, Gedde Watanabe, George Wendt, John Turturro, and Mimi Rogers, the cast is quite strong and gives some really good performances; especially Keaton, who's comedic gold. The story follows a closed down car factory that gets reopened by a Japanese company, but the differences between the American and the Japanese work ethic soon puts the factory's future in jeopardy. The comedy is well-written and does an impressive job with the cultural humor. A good natured film about friendship and teamwork, Gung Ho is tremendously fun and entertaining.
Dann Michalski
Super Reviewer
½
Almost okay for the times. Way too dated now.
Christian C
Super Reviewer
½
Half hearted culture clash comedy packed with racial stereotypes and (surprise surprise) life lessons. The fact that the arrogance of the US workers wavers when they come to understand their japanese counterparts gives the film some small merit, but it's horribly contrived and just plain unfunny.
Gung Ho Quotes
There are no approved quotes yet for this movie.