Grizzly
(1976)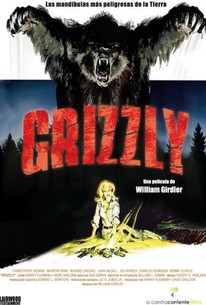 Movie Info
This ecology-themed horror movie took its inspiration from the success of Jaws and moved that film's man-versus-nature conflict from the seaside to the forest. The plot of Grizzly focuses on Mike Kelly (Christopher George), a forest ranger whose peaceful tenure over a forest housing a busy nature lodge is interrupted by the arrival of a very deadly and hungry 15-foot grizzly bear. As the bear starts killing rangers and campers, Park Supervisor Charley Kittridge (Joe Dorsey) tries to cover up the problem and tries to keep Kelly from acting in a way that will cause public suspicion. Finally, Kelly decides to do what is right and teams up with macho pilot Don Stober (Andrew Prine) and eccentric naturalist Arthur Scott (Richard Jaeckel) to hunt the grizzly down on its own turf. Grizzly was roundly panned by critics for its slavish, blow-by-blow imitation of its more sophisticated model, Jaws, but its gruesome shock power made it a major hit with audiences around the world. Director William Girdler followed this success up with another ecology-themed shocker in Day of the Animals, and the film's producers made a still-unreleased sequel, Grizzly II, which provided early roles for Charlie Sheen and George Clooney.
Critic Reviews for Grizzly
Audience Reviews for Grizzly
Grizzly has got the reputation of being one of the first of many Jaws rip offs. This tale of nature gone wild is one enjoyable horror film. If you can forget that this is a rip-off of Jaws, then you're sure to enjoy this awesome horror film. Grizzly is one of those Cult films that you're just happy to rediscover. Though it was inspired by Jaws, Grizzly is gem of a film. The acting is pretty good considering that this is a low budget film, and the bear attacks are quite impressive too. What I like about the film is that they used a live bear to make the film. Grizzly felt very realistic. I really enjoyed the blood and gore. I felt that Grizzly is very underrated. Yes, it is a rip off of Jaws, but that doesn't mean it's a bad film. The film quite good and it's a very impressive film with a good enough, but predictable plot. In the end, does it really matter? The Grizzly keeps the body bags full, and there's plenty of carnage on-screen to appeal to horror fans. Grizzly is also one of the better Jaws rip offs along with Piranha. Some people have said that the acting was awful, and the dialogue was bad, but I actually found the performances and dialogue to be quite good. The star of this film is of course, the bear. Grizzly is a fun, entertaining film that delivers good chills and a good time. For a Jaws rip-off, this is a great, obscured gem that Cult horror fans will relish.
Another in the long line of 'so good it's bad' movies, this complete and utter Jaws echo is about as much fun as you could hope for from a killer grizzly bear movie. The highlight of the thing for me would be the bear decapitating a horse. I laughed extremely hard at that. The whole thing is cliche'd, over the top and just horrible - but damn is it entertaining. If you sit back and try not to take this seriously, you'll have a good time.
Tim Salmons
Super Reviewer
½
Jaws with a bear (complete with exploding antagonist finale) except not nearly well as acted, directed, written or executed.
Ken Stachnik
Super Reviewer
Grizzly Quotes
There are no approved quotes yet for this movie.