The Getaway
(1972)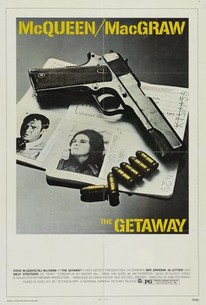 Movie Info
In Sam Peckinpah's version of Walter Hill's script, from Jim Thompson's novel, an ex-con and his wife go on the lam after a Texas bank heist. Denied parole after four well-behaved years, Doc McCoy (Steve McQueen) sends his wife Carol (Ali MacGraw) to dirty politician Jack Benyon (Ben Johnson) to get him out of prison. Carol secures Doc's freedom, on the condition that he does one more bank job for Benyon. Doc and his accomplices Rudy (Al Lettieri) and Jackson (Bo Hopkins) get the cash, but Doc soon discovers how Rudy intends to keep it all for himself and how Carol convinced Benyon to get him sprung. While Rudy hijacks a veterinarian and his wife (Sally Struthers) to take him to get Doc in El Paso, Doc and Carol make their own embattled way south with the money, threatening to desert each other before reaching a trash dump rapprochement after a harrowing garbage truck episode. All sides converge in El Paso for a shootout, but trust a happily married old-timer (Slim Pickens) to help Doc and Carol have a future. With violence shot in his trademark balletic style, Peckinpah does not hide the damage that Doc can do, whether to a cop car or an enemy. Still, as in such other morally relative outlaw movies as Bonnie and Clyde (1967) and Peckinpah's western The Wild Bunch (1969), Doc may be a criminal and killer when necessary, but his and Carol's loyalty to each other elevates them above their crooked milieu. With its non-traditional traditional couple played by the then hot (and notoriously adulterous) stars McQueen and MacGraw, The Getaway was a substantial hit. It was lackadaisically remade with Alec Baldwin and Kim Basinger in 1994. ~ Lucia Bozzola, Rovi
News & Interviews for The Getaway
Critic Reviews for The Getaway
Audience Reviews for The Getaway
½
Steve McQueen and Ali Macgraw light it up in this unusual tale wherein the bad guys and gals are the best thing going, in true Peckinpah style. Vibrant with charisma, this feels as fresh as if they shot it yesterday. Simply loved this.
Kevin M. Williams
Super Reviewer
Sam Peckinpah's visceral direction was unique in the sense that he always managed to craft pictures that were riveting, tense, brutal and exciting. Often imitated, but never matched, Peckinpah's was a director that knew how to successfully craft a picture that struck a chord with its audience, and he always managed to steadily build up the tension. I've previously only seen Straw Dogs, and that film was a highly memorable picture that was hard to forget. That is the case with The Getaway, managing to be a riveting cinematic experience with effective, pulse pounding direction from a standout director and elevated by a powerful cast that is headed by the late great Steve McQueen, who delivers one of his finest performances of his career. What makes the Getaway work so well is the taut direction, the steady pace of the story that takes its time to set things up so that you are drawn more and more into the film, and the great performances. The Getaway manages to be a riveting heist picture, one that ranks among the finest in the genre, as well as being one of the classics that has yet to be matched. Peckinpah is a skilled craftsman when it comes to making great movies, and with this film, he pulls out every trick to create something that is highly engaging from start to finish. The Getaway is a tense, action packed thriller, one that is a standout picture well worth your time. I very much enjoyed this picture and I highly recommend this film to anyone looking for a blistering heist film to watch. With effective direction, and memorable action and phenomenal performances The Getaway is one of the finest heist films ever filmed. Sam Peckinpah is a director who can successfully construct something memorable using the simplest of ideas. If you break down this picture, it's that complex, but it's a film that is brilliantly executed due to a sharp script, great cast and sharp direction.
Peckinpah's action flick is well made and original though not one of his best.
Graham Jones
Super Reviewer
The Getaway Quotes
There are no approved quotes yet for this movie.