The General
(1927)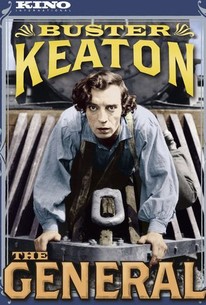 Movie Info
Buster Keaton plays Johnny Gray, a Southern railroad engineer who loves his train engine, The General, almost as much as he loves Annabelle Lee (Marion Mack). When the opening shots of the Civil War are fired at Fort Sumter, Johnny tries to enlist -- and he is deemed too useful as an engineer to be a soldier. All Johnny knows is that he's been rejected, and Annabelle, thinking him a coward, turns her back on him. When Northern spies steal the General (and, unwittingly, Annabelle), the story switches from drama and romance to adventure mixed with Keaton's trademark deadpan humor as he uses every means possible to catch up to the General, thwart the Yankees, and rescue his darling Annabelle -- for starters. As always, Keaton performs his own stunts, combining his prodigious dexterity, impeccable comic timing, and expressive body language to convey more emotion than the stars of any of the talkies that were soon to dominate cinema. ~ Emru Townsend, Rovi
News & Interviews for The General
Critic Reviews for The General
Audience Reviews for The General
Very simply a genius execution, filled with variety, purpose, and most of all, humor, as the diminutive hero does his utmost to stand amongst the big boys as wartime calls. Unbelievable stuntwork, of course, that'll have you wondering aloud, but as well, a treatment of the heroine that only some eighty years ahead of its time. A train as the third major character, two armies battling it out, and a train crash that couldn't've been faked. Simply incredible stuff.
Kevin M. Williams
Super Reviewer
The only problem is that Keaton was in the wrong side of the war.
Lucas Martins
Super Reviewer
A true classic in every sense of the word, hysterically funny like few others and featuring some of the most exciting locomotive chases ever filmed, as well as an epic-scale production, a beautiful score and a cinematography in sepia that feels like a travel in time.
Carlos Magalhães
Super Reviewer
The General Quotes
There are no approved quotes yet for this movie.