Funny Farm
(1988)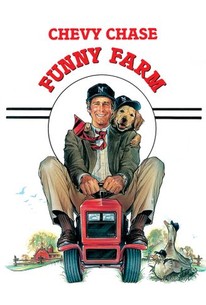 Movie Info
Chevy Chase stars as Andy Farmer, a sportswriter who moves with his schoolteacher wife Elizabeth (Madolyn Smith) to the country in order to write a novel in relative seclusion. Of course, seclusion is the last thing the Farmers find in the small, eccentric town, where disaster awaits them at every turn.
Critic Reviews for Funny Farm
Audience Reviews for Funny Farm
Pretty cut-and-dried, fish-out-of-water story: "hilarity ensues when a city couple move out to the country." This has been done before, and very much better: "The Egg and I", "Mr.Blandings Builds His Dream House", or even the television show, "Green Acres". Very forgettable this.
Kevin M. Williams
Super Reviewer
I never saw this back in the 80's. I have to say, I was shocked to discover this was from 1988, looking at it, I was thinking maybe 82 or 83. It is extremely dated to look at with a dull, flat look to it. None of the colour or flair I would associate with an 80's movie. Story is okay, about a couple who move to a small town so the guy can write a book. A few small laughs, but it crosses into National Lampoons style humor, which really isn't my thing. The Christmas scene is very pretty, though. Not a classic for me, though people who grew up with this one may have a different view of it. Another one with my least favourite cliched "happy ending" scene. So nauseating.
Nicki Marie
Super Reviewer
½
An hilarious movie about a writer who moves out to the country to get some peace and quiet so he can write, but finds it's not that easy. Chase is fantastic in this movie, I really enjoyed it.
Funny Farm Quotes
There are no approved quotes yet for this movie.