Easy Virtue
(1927)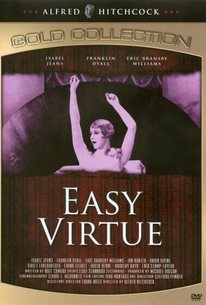 Movie Info
In the early stages of his directing career, Alfred Hitchcock made a number of hackneyed studio films which barely resemble the works he would go on to direct. The society drama Easy Virtue is one of the nine silent movies Hitchcock directed. The film opens with Larita Filton posing for her portrait in an artist's studio. The behavior of her boorish, philandering husband, Aubrey Filton, drives her into the artist's arms where her husband discovers her. In the melee that follows, the artist shoots the husband, wounding but not killing him. Aubrey sues for divorce and Larita falls from grace in the courtroom while journalists feed the public a salaciously inflated account. Ruined, Larita flees to the south of France and meets John Whittaker, a young, upstanding British man. They fall in love, marry, and the happy couple returns to England to mummy. Mother Whittaker, a Victorian in the modern age, strenuously opposes the union and upbraids John for bringing scandal upon the family name. Neither John nor his father has the strength to withstand Mother Whittaker's onslaught, and the film, and Larita, end miserably. Hitchcock does one of his wordless cameos in the film.
Critic Reviews for Easy Virtue
Audience Reviews for Easy Virtue
One of Hitchcock's greatest themes was, always listen to your mother. He would use this trend again in later pictures like "Notorious", "Psycho" and "Frenzy". Most people today may not have the patience to sit down and watch a full silent film (myself included) due to the old footage and the sub cards, balletic music and above all, the sound. For me that anxiety started to change when I began to take notice in the heroine Larita played by Isabel Jeans. She is married to a drunken man and is caught cheating with a male artist. Her husband demands a divorce due to adultery. Which she goes to court and is now known to the public as notoriously promiscuious woman. So Larita then moves to France and marries a young man but the young man's mother comes into the mix and dispises Larita. The mother has heard of her before but can't put her finger on where. Larita doesn't tell the young man of her scandalous past but soon her past haunts her as she is forced to divorce yet again. A sad story. "Easy Virtue" may not be Hitchcock's best but I was very entertained all the way through. Hitchcock gives a hint on bisexual tendencies, adultery, gossip, scandals, dominating mothers almost silently so audiences wouldn't seem to know or to take a hint. I have to one day see the 2008 film "Easy Virtue" since it is based on the same Noel Coward play and the 1928 movie.
Sure this isn't the Hitchcock we would come to know in later days, but this early silent gem has a lot to offer. Not only does it feature motifs that Hitchcock would use throughout his career such as the everyday man being caught up in the most extraordinary of situations, but it is an engaging story that was a nice departure from the crime centered films that I normally associate with Hitchcock. It is an interesting glimpse into the morality imposed upon people in the first part of the 20th century. There are, as usual with Hitchcock, some clever camera tricks that help lift it out of same league as other silent offerings as well. While it may not merit repeat viewing, there is still enough there for it to be worth your time. It also features one hell of a downer ending and for that, I am thankful.
This is an okay movie, you can see from Hitchcock's early films the creation of his styles, but his early films are not as suspenseful as his other films.
Easy Virtue Quotes
There are no approved quotes yet for this movie.