Easy Money
(1983)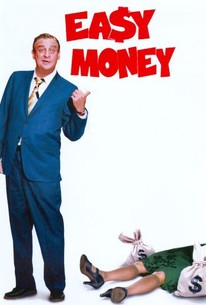 Movie Info
The king of excessive behavior (Rodney Dangerfield) is working as a baby photographer when he finds that his mother-in-law's fortune is his--if only he stops drinking, smoking and gambling, while trimming down to under 200 lbs.
Critic Reviews for Easy Money
Audience Reviews for Easy Money
½
Rodney Dangerfield hit his stride with Caddyshack and cruised into this movie about a slovenly, drunken gambler of a baby photographer that married the heiress of a $10 million fortune, the only provision being that Rodney has to clean up his act in one year. Hilarity ensues. Watching this film after all these years I've realized that it isn't the greatest, kind of like D.C. Cab and a few others I could mention. The whole joke gets so worn out by the last half hour you're actually excited when he gets shot in the ass. It's still an ok piece of nostalgia, but it doesn't hold up to Caddyshack or Back to School. It's one of those blah movies that you re-visit once a decade and leave it lingering in the back of your mind until the next time you stumble upon it. See you in the 2020's.
Chris Garman
Super Reviewer
½
A charming family comedy with the hilarious Dangerfield as the lead. Towards the end it gets predictable, but overall it's very enjoyable.
The first part of the film wasn?t quite as easy to get into as the second, by which point the characters were established and became a little more comical, Rodney Dangerfield was prettyfunny and the situation reminded me a little of Brewster?s Millions.
Lady D'arbanville
Super Reviewer
Easy Money Quotes
There are no approved quotes yet for this movie.