The Eagle Has Landed
(1976)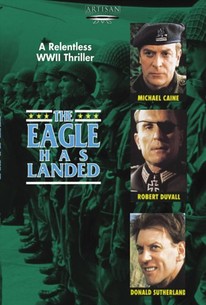 The Eagle Has Landed Photos
Movie Info
John Sturges directed this taut adaptation of Jack Higgins' suspense novel about an attempted kidnapping of Winston Churchill by the German high command during World War II. When it is discovered that in November 1943 Winston Churchill is scheduled to spend a weekend in a country home in Norfolk, the Germans plan to kidnap him. Heinrich Himmler (Donald Pleasence), under orders from Hitler, assigns Nazi colonel Max Radl (Robert Duvall) the chore of sneaking the English-hating Irishman Liam Devlin (Donald Sutherland) into the British countryside and arranging for a 16-man task force to be parachuted into the English country town of Sudley Constable, under the auspices of Colonel Kurt Steiner (Michael Caine). The efficient planning works too well, and before long their exactingly perfect timetable begins to come apart.
Critic Reviews for The Eagle Has Landed
Audience Reviews for The Eagle Has Landed
½
"The only time this plan makes any sense to me is when I'm drunk" What a waste of time. Ok, so basically the film has an interesting plot. A bunch of nazis on a covert mission to kidnap Winston Churchill, which could have lead to a big victory for Hitler. The film starts very slowly and is a real borefest thru its entire duration. In the middle of the film, the movie reaches its comedic heights when Larry Hagman's character, Colonel Pitts tries to take control of the events. What a character and what a bad performance by Hagman. But he's not the only actor who should've stayed out of the film. Robert Duvall and Donald Sutherland, whom I consider to be good actors, are probably ashamed of their performances in "The Eagle Has Landed". Like in the quote of this review, I'd probably enjoyed this movie more if I had been drunk. Not a major disaster but totally overrated and a fine example of wasted talent.
½
This war movie gets started on a promising note, but it is sabotaged by a weak, contrived ending.
Dean McKenna
Super Reviewer
About as good as something i wished I'd seen for free.
Curtis Lilly
Super Reviewer
The Eagle Has Landed Quotes
There are no approved quotes yet for this movie.