Dressed to Kill
(1980)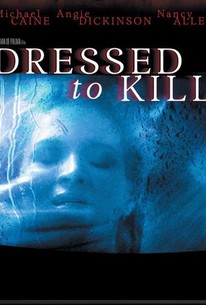 TOMATOMETER
AUDIENCE SCORE
Critic Consensus: With arresting visuals and an engrossingly lurid mystery, Dressed to Kill stylishly encapsulates writer-director Brian De Palma's signature strengths.
Movie Info
In this stylish, violent thriller,an unhappy wife, Kate Miller (Angie Dickinson), meets a handsome man in a museum and goes to his apartment for a quick sexual encounter. As she leaves, she is brutally murdered. Kate's son, Peter (Keith Gordon) sets out to solve the murder aided by the call-girl Liz (Nancy Allen), who discovered his mother's body and got a glimpse of the murderer, a blond woman. Peter begins watching the office of Kate's psychiatrist, Dr. Elliott (Michael Caine), setting up a camera to record the comings and goings of his patients. When the suspect finally appears, Liz makes an appointment with Elliott in order to get a look at his appointment book. In Dressed to Kill director Brian De Palma deftly incorporates all the tricks and plot devices he learned from observing the masters of the genre, Alfred Hitchcock, Mario Bava and Dario Argento to great effect. The scene where Kate meets her lover in the museum is reminiscent of Vertigo. The murder of Kate in the elevator frightening, bloody and chillingly effective, is similar in tone to the shower scene in Hitchcock'sPsycho. Brian De Palma directs with great visual panache, and gets great performances from his cast, particularly Michael Caine who gives his usual fine performance in a surprising and difficult role. Dressed to Kill is a violent, gory, memorable thriller with many surprises and exciting plot twists.
News & Interviews for Dressed to Kill
Critic Reviews for Dressed to Kill
Audience Reviews for Dressed to Kill
Is restraint classy in and of itself? Writer/director DePalma's blatant steal from Hitchcock's 'Psycho' has the feel of a film student copying his hero, only without the restraints of his hero's time period, which, it could be argued, lent a modicum of subtlety to the proceedings (even if the conversation was about tawdry sex and murder). DePalma's copy says "damn the torpedoes, full speed ahead, let's get kinky!" You'll have to be the judge as to whether or not this version crosses the boundaries of your decency. What is here is watchable but has the feel of a frat party gone on too long for me, which some may still enjoy. Fans of the Master will guess the killer as soon as he's introduced.
Kevin M. Williams
Super Reviewer
½
Well executed thriller with horror and drama elements, Dressed to Kill is an engaging film with a good cast of actors and well thought out characters. I felt that the film was expertly directed by Brian De Palma who always seems to make some standout, taught, riveting pictures. Well, that is very much the case. Dressed to Kill is a well made movie, one that boasts an impressive story, which grabs your attention from start to finish. Fans of De Palma's work will surely enjoy this, and if you're looking for a tense, memorable thriller, Dressed to Kill is worth your time. While using a straight to the point approach to the way he tells history, De Palma manages to make a very good film, a film that succeeds at delivering thrills right from the moment it starts. As a thriller, Dressed to Kill is a fine example of one that gets it right, it steadily unfold before your eyes, an unravels its plot in a way that keeps you interested and add to that a great cast, and you have a film that is quite memorable in the long run. De Palma's work, I find is quite unique, and his style is mesmerizing and he has brought something quite worthwhile in the cinema. Dressed to Kill is among his best films, a well acted film that boasts some thrilling moments. The film is a genre classic, one that is a well crafted thriller and even with its weaker moments, still has enough good elements to make this a highly entertaining film.
For a director regarded as highbrow and artfully mainstream, Brian DePalma can certainly tap into the sleazy turpitude of human nature. The grabber is Angie Dickinson's full-frontal nudity in a shower which is shown in high-key, erotic lighting (although the body double belongs to Penthouse Pet Victoria Lynn Johnson). 'Dressed to Kill' is a decadent treat for fans of giallo horror (the killer-with-the-black-gloves cliché is intact). DePalma's craftsmanship is undeniable in tracking shots such as one spectacular example in a museum gallery where we follow Dickinson as she is stalked by an incognito man with her glove. A leaflet indicating that the one-night stand has a sexually transmitted disease is another harbinger of DePalma's perverse sensibilities. On the prerequisite "dark and stormy night", DePalma manipulates his erstwhile wife, Nancy Allen, into carnal bait for the unhinged serial killer and the tightrope anticipation nearly singes the screen into ashes. The transvestite twist in the denouement has been lambasted as a cheat (due to a series of taunting answering machine messages) but I found it to be delightfully loopy and a glowing tribute to the absurdist tendencies of DePalma's mentor, Alfred Hitchcock. A dream sequence somewhat disengages the enterprise, but overall, 'Dressed to Kill' is a kamikaze tour-de-force of kitchen-sink melodrama alongside slasher mainstays.
Cory Taylor
Super Reviewer
Dressed to Kill Quotes
There are no approved quotes yet for this movie.