The Dream Team
(1989)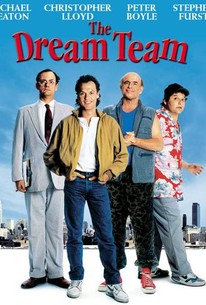 Movie Info
During an outing to a baseball game, a group of four psychiatric inmates break away from the group and wind up wandering loose in New York City in this comedy. Their predicament worsens when their psychiatrist turns up wounded, and the mismatched band must prove that they are not responsible.
Critic Reviews for The Dream Team
Audience Reviews for The Dream Team
½
The Dream Team is a very funny, well acted comedy with a great cast of talented actors. This is a very good film that has great comedy moments provided by its cast. The jokes are very funny, and the film is brilliantly directed. The Dream Team has so many good performances, that it's hard to pick the best. Every actor here is wonderful. The film has a fairly simple plot to it, but what makes this film worth seeing are the cast who are simply just hilarious. What makes the film good is the cast of accomplished actors who have proven themselves with wonderful films. The directing is good and the script has plenty of laugh out loud moments. Howard Zieff direction is well paced, and there are enough comedy bits to keep you interested from start to finish. The Dream Team is one of those rare comedies that every performance of each of the main cast stands out, and makes the film what it is. This film is quirky, zany and lots of fun. With a brilliant cast at hand, director Howard Zieff has made one of the best comedies of the 1980's. If you're looking for a great comedy, then give this film a shot. With a cast like this, it's a shame to pass up on this film. If you love well constructed comedies with a fine cast then this film is for you. The Dream Team is fun from start to finish, and there's plenty to enjoy and like I've stated before, this is a great cast who make this comedy worthwhile.
Entertaining and interesting, the thing is that, The Dream Team, show some cliches and a wear script, just like Zieff's direction.
Lucas Martins
Super Reviewer
½
this is a hilarious movie. peter boyle was the pay off and the premise was smart. dated but was so good in its time that i still love it.
The Dream Team Quotes
There are no approved quotes yet for this movie.