Dillinger
(1973)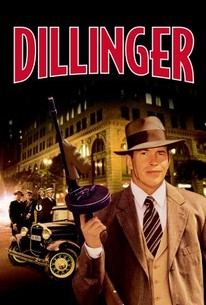 Movie Info
As in this biopic's 1945 predecessor, the life of John Dillinger is highly fictionalized in this film which includes appearances by the gangster's (Warren Oates) compadres--Baby Face Nelson (Richard Dreyfuss), Pretty Boy Floyd (Steven Kanaly) and Homer Van Meter (Harry Dean Stanton).
Critic Reviews for Dillinger
Audience Reviews for Dillinger
John Milius's Dillinger is a somewhat of a romanticized retelling of criminal John Dillinger's exploits. Dillinger is a flawed film that though is entertaining and worth seeing, it ignores several important facts. After reading extensively on John Dillinger and seeing both Public Enemies, and Dillinger, I have to say that Public Enemies is a bit more accurate than this film. The problem with Dillinger is that director John Milius directs a film that uses real facts, but waters the facts down with too much fiction. Say what you want about Public Enemies, but that film was far more accurate, with minimal inaccuracies. Dillinger is an entertaining film despite the fact that Milius ignores facts, (I enjoy a bit of authenticity to films dealing about 1930's bank robbers). However this film does have some good things going for it. For one the lead who plays the title character of John Dillinger, Warren Oates looks like Dillinger and delivers a great performance as the title character. I liked the film, and though it is nothing compared to the classic, Bonnie & Clyde, Dillinger is still a good film to watch and enjoy if you love gangster films. Dillinger has some great action scenes and bank robbery scenes. Dillinger is a good film, but it isn't the definitive film on the exploits of John Dillinger. I enjoyed the film however, but I felt that the film could have been done much better than this. Dillinger is nonetheless a good film to see for viewers that enjoy a good bank robbery film, and despite its inaccuracies, Dillinger is still a fun film to watch.
I am still waiting for a better Movie based upon John Dillinger.
it has a kind of cheesy tv movie feel but overall it's pretty entertaining. dreyfuss is downright laughable as babyface nelson but harry dean stanton always makes me smile and i thought warren oates was damn good as dillinger. i still have trouble imagining johnny depp in the part. we'll see.
Stella Dallas
Super Reviewer
Dillinger Quotes
There are no approved quotes yet for this movie.