Crossroads
(1986)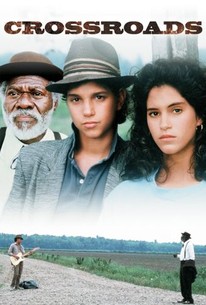 Movie Info
Classically trained guitarist Eugene Martone (Ralph Macchio) begins working at a nursing home in Harlem and befriends a wizened bluesman named Willie Brown (Joe Seneca). Eugene helps Willie escape, and the two journey to the Mississippi Delta to confront the Devil concerning Willie's earlier pact.
Critic Reviews for Crossroads
Audience Reviews for Crossroads
½
Crossroads is one of the best films about music that I have ever seen. The film surrounds the legend of Robert Johnson. The film features a terrific story. A great soundtrack and cast. Crossroads is a must see film, and the story should appeal to any music lovers A young kid named Eugene Martone helps Robert Johnson's old friend escape from a minimal security hospital. What follows is a tremendous journey of learning the ways of the blues. In return for having broken Willie Brown out of the hospital, Brown promises to give Eugene Robert Johnson's last song, which he never recorded during his lifetime due to his untimely death. If you're a Blues lover, you'll definitely love this film. Any musician will appreciate this film. Crossroads is filled some great music. A very cool thing about the film is that Steve Vai is in the film, and in the films most famous scene goes head to head the guitar duel with Eugene Martone. This scene is obviously the high point of the film, and is also one of the best moments of the film. Crossroads lacks incredible acting, but it's still decent enough to keep you interested. But the strong point of the film is not the acting, but the story. This story is so entertaining that you can forgive the average acting. The best performance though of the film is not Ralph Macchio but Joe Seneca. He is really good on screen and he elevates the average acting of Gertz and Macchio. Crossroads is a solid musical drama and is a definite must see for any musician of every genre. This is a memorable film using one of the best, most emotional musical genres. Using Blues music as a plot device works so well because it's a genre that conveys great emotion. Crossroads is one great film, with average acting, but terrific story telling, and with a wicked Blues soundtrack how can you go wrong. This is one film that should be seen. And this film shouldn't be confused for the lame Britney Spears film of the same name. THIS is the right Crossroads film to watch!
Ralph Macchio is a guitar prodigy who makes a deal with the devil in order to save a friend. A bluesy rendition of Faust that's hampered by weak scripting and two-dimensional performances.
Randy Tippy
Super Reviewer
It's the stuff of myth, and while the film doesn't always work, the actors bring the right sensibilities to their roles and the guitar playing is impressive and inspiring.
Edward Boxler
Super Reviewer
Crossroads Quotes
There are no approved quotes yet for this movie.