Cross My Heart
(1987)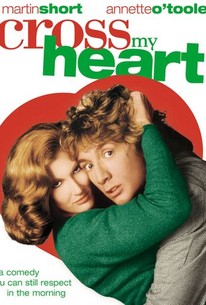 Movie Info
Martin Short and Annette O'Toole star in this comedy documenting a date from hell. Short is David, a sunglasses salesman, who makes a date with Kathy (Annette O'Toole) in order to celebrate his new promotion. David and Kathy have gone out a few times before, but they both think that this is the date that will put both of them over the top, convinced that they have finally found the right person. With anxiety in their hearts, they both prepare anxiously for the date. But there is trouble on the horizon. Before heading out on the date, David discovers that instead of getting a promotion, he has been fired. Afraid that Kathy will think that he is loser, he doesn't tell her that he lost his job. He has also borrowed the car and the apartment of his friend Bruce (Paul Reiser) for the date, permitting her to think that they all belong to him. But Kathy hasn't been entirely truthful to David either. For example, she has conveniently forgotten to tell him about the existence of her seven-year-old daughter.
Critic Reviews for Cross My Heart
Audience Reviews for Cross My Heart
This gets one more star for the second half of the movie, which I loved. The first half is slow and pretty boring. It's just a third date. And it feels like you get to see every minute of their dull date. The second half of the movie is when things pick up, when the movie gets funny, and when we get entertained finally. This movie could have been better if it just made the beginning part quicker, and showed more of the second half.
Cross My Heart Quotes
There are no approved quotes yet for this movie.