Cimarron
(1931)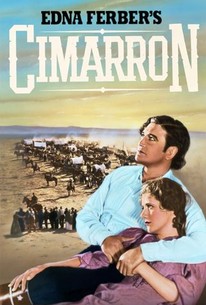 TOMATOMETER
AUDIENCE SCORE
Critic Consensus: Cimarron is supported by a strong performance from Irene Dunne, but uneven in basically every other regard, and riddled with potentially offensive stereotypes.
Movie Info
Cimarron was the first Western to win the Oscar for Best Picture--and, until Dances with Wolves in 1990, the only one. The film begins on April 22, 1889, the opening day of the great Oklahoma Land Rush on the Cherokee Strip. Boisterous Yancey Cravat (Richard Dix) is cheated out of his land claim by the devious Dixie Lee (Estelle Taylor). Instead of becoming a homesteader, Cravat establishes a muckraking newspaper, and with pistols in hand he becomes a widely respected (and widely feared) peacekeeper. He also displays a compassionate streak by coming to the defense of Dixie Lee, who is about to be arrested for prostitution. Cravat's insistence on sticking his nose into everyone's affairs drives a wedge between him and his young wife Sabra (Irene Dunne), but she stands by him--until he deserts her and her children, ever in pursuit of new adventures. Sabra takes over the newspaper herself, and with the moral support of her best friend, Mrs. Wyatt (Edna May Oliver), she creates a powerful publishing empire. Cimarron makes the mistake of placing most of the action early in the film, so that everything that follows the spectacular opening land-rush sequence may feel anti-climactic. While it's always enjoyable to watch Irene Dunne persevering through the years, it's rather wearing to sit through the overblown performance of Richard Dix, who seems to think that he can't make a point unless it's at the top of his lungs. Cimarron creaks badly when seen today, but it still outclasses the plodding 1960 remake. ~ Hal Erickson, Rovi
Critic Reviews for Cimarron
Audience Reviews for Cimarron
A land rusher and his wife attempt to conquer the West. I think one's judgement of this film rests with one's judgement of its main character. Some may see Yancey Cravat as a just, forward-thinking tough paragon of masculinity. However, I see him as a braggart, demeaning, and ludicrous prick. His heavy-handed treatment of his wife, his version of vigilante "justice," his proselytizing sermons, and his posturing nonsense wear on me to the point where I find it impossible to spend one moment in his presence. He's the type of person who so full of himself that there's nothing left for anyone else. The plot of the film serves Yancey. Each turn of the story is meant to render him more fully masculine and more admirably heroic, but what is left when an audience finds themselves unconvinced of his "awesomeness?" Not a damn thing. Overall, this guy is an asshole, and that makes the film an asshole too.
Jim Hunter
Super Reviewer
Okay, so this film is historically significant since it's the first western to win an Oscar (in general), and also for (somehow) snagging Best Picture. I think this is definitely a case of tastes changing. This was seen as a marvelously lavish and epic film in its time. Now it's a horribly dated, irrelevant and racist mess. I will give it credit for being an interesting look at the values of the society that it was produced in. Aside from that, there's not really much of a reason to see this unless you're an Oscar completist of die hard fan of 30s cinema. The story (based on a historical novel) tells the sotry of a man and wife set against the backdrop of the early history and development of Oklahoma. It should be an adventurous story of progress and adventure but is instead a creaky, scattershot melodrama with racist overtones in its portrayal of ethnic minorities. At the time the film was considered progressive, and no one batted an eye over the content. Yeah...can't say the same for how it fares now. I've seen movies that were far more racist, but thpse also had other aspects that helped me forgive them or at least be more understanding. This film, aside from being lavishly staged, isn't really technically innovative or remarkable. The opening scenes are decent though. At least hte film contains one character who serves as a counterpoint to the dominant views and is sympathetic with or understanding of the minorities. That helps, but it's not enough. It's also boring and unengaging. Well, that pretty much sums this one up. It's not terrible, but there's really isn't a reason to see this beyond what I've previously mentioned.
Chris Weber
Super Reviewer
½
Creaky antique that somewhat inexplicably won the second best picture Oscar ever awarded. Taking into account that films had just started to talk perhaps that is part of the reason for the prize going to this exercise in overacted storytelling. Although today the picture is quite racist in the context of the time it might of even been considered progressive. The print is in pretty rough shape and Dix in particular is over the top, to be far most actors of the time hadn't learned yet how to modulate down their performances from the silents. Read the much better book instead.
Cimarron Quotes
There are no approved quotes yet for this movie.