The Chase
(1966)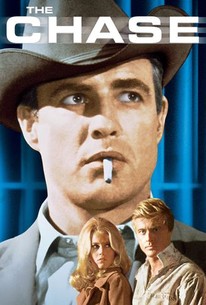 Movie Info
Arthur Penn directed this atmospheric melodrama with a stellar pedigree (scripted by Lillian Hellman and based upon a play by Horton Foote) and a checkered production history. Penn later disowned the film, complaining that producer Sam Spiegel constantly interfered during production and later barred him from the editing room. "I have never made a film under such unspeakable conditions," Penn said. "I was used merely to move the actors around like horses." The Chase takes place in Tarl, a Texas town lorded over by Val Rogers (E.G. Marshall), the local banker. When convict Bubba Reeves (Robert Redford), a hometown Tarl boy, escapes from the state penitentiary, the town becomes polarized into two camps -- those who think Bubba is guilty of murder, and others who are convinced of his innocence. Sheriff Calder (Marlon Brando) thinks Bubba is innocent and will come back home. Calder, however, has other problems to contend will besides Bubba. Bubba's wife Anna (Jane Fonda), for instance, has been having an affair with his best friend, Jake (James Fox), who happens to be Val Rogers's son. Meanwhile, Ruby (Angie Dickinson), Calder's wife, tries to protect her husband from the turmoil in the town. But, after Calder is sent in to try to control a wild party, he is beaten by an angry mob of partygoers. At the same time, Bubba arrives in town. When word gets out that Bubba is hiding in an automobile junkyard, Calder tries to get to Bubba before the townsfolk do, and take him into safe custody.
Critic Reviews for The Chase
Audience Reviews for The Chase
½
An under-appreciated work that takes a hard look at society (and is not happy with what it sees) as we visit a small Southern town as it reacts to the news of a recent prison break by one of its scions. There are only a few decent people to be found and their decency is in constant jeopardy from the rest of the residents, awash in their own filth and only desiring to share only that. Must see (if it is only to see Brando gloriously working the Method).
Kevin M. Williams
Super Reviewer
This is probably my favourite movie that takes place in a small Texan town. This movie has an all-star cast, and a good story. I highly recommend it, it's intense and exciting.
I really like this movie, an early neo-western and Marlon Brando being a cool sheriff. I think it tends to throw off people due to the ensemble factor, there's no real main character to latch on to. I actually like that, it's different. Jane Fonda and Angie Dickinson make for some great supporting characters. While this isn't flawless, it has a great heart and a good message about gossip and the power of townspeople.
Conner Rainwater
Super Reviewer
The Chase Quotes
There are no approved quotes yet for this movie.