Brainstorm
(1983)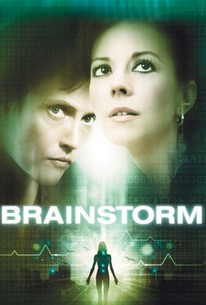 Movie Info
Natalie Wood made her last screen appearance in Brainstorm; in fact, she died before the film was completed, necessitating extensive rewrites. Wood's character is secondary to the one played by Christopher Walken. A research scientist, Walken has been experimenting with a revolutionary brain-reading device. This wondrous machine is able to read a person's thought processes and translate these to videotape. When Walken wants to study the brainwaves of his late partner Louise Fletcher, he finds himself seriously at odds with his superiors-not to mention several ominous-looking government types, headed by Cliff Robertson.
Critic Reviews for Brainstorm
Audience Reviews for Brainstorm
½
Brainstorm is a movie I want to rate up but can't. The plot simply is not there and the whole thing becomes silly towards the end. However, I did enjoy the 80s style futurism, Walken (as always), as well as the performance by Louise Fletcher. The transfer looks good, much better than I expected, better than most 80s films.
Robert Brogan
Super Reviewer
½
Brainstorm was simply just kind of okay when you stop to consider how great a movie about this concept of memory/emotional transference should have been. EVERY character in this movie was incredibly dull and half baked. The story was also weak and the only thing that really shined with Brainstorm was some of Douglas Trumbull's (the man responsible for 2001: A Space Odyssey's effects) direction. The fact that he changed aspect ratios to show the perspective of Christopher Walken and Louise Fletcher's invention in itself is almost worth the watch. The fact that Brainstorm is full of 2001 nods/ripoffs (one of the characters is named Hal for crissakes) kind of deflates it. I realize that Natalie Wood's death kind of crapped on the production as a whole but there's only so much you can blame on tragedy.
Michael Gildea
Super Reviewer
From Douglas Trumbull, the man behind visual effects in such films as 2001: A Space Odyssey, The Andromeda Strain, Close Encounters of the Third Kind and Blade Runner comes Brainstorm. His only other notable directorial work before this was Silent Running, an ecological Sci-Fi thriller that was decades before its time. There's no argument that the man knows special effects, but that doesn't always translate into knowing how to direct actors. Some of the takes come off as awkward first take rehearsals and the dialogue can be thin at times. Still, it's great to see Christopher Walken in one of the few lead roles in his career. Louise Fletcher is great as the head scientist fighting for control of her invention from the evil military forces who have come up with a new and exciting way to kill people. The film is also noted for being the final work of Natalie Wood who drowned during the production and blah blah blah. The main attractions of the film are cinematography and the special effects. The lights bouncing off of the silver tape, the virtual theater scenes, this button, that light, etc... All in all, Brainstorm remains a provocative sci-fi flick and should be seen once by all film fans.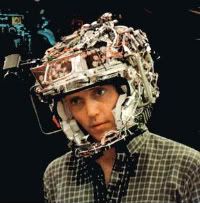 El Hombre Invisible
Super Reviewer
Brainstorm Quotes
There are no approved quotes yet for this movie.