Der Blaue Engel (The Blue Angel)
(1930)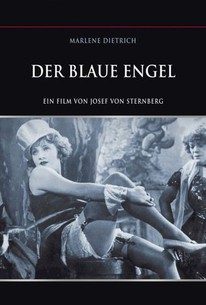 TOMATOMETER
AUDIENCE SCORE
Critic Consensus: Marlene Dietrich steals more than one show in this backstage tragedy about a lowly professor besotted with a cruel and enigmatic singer.
Der Blaue Engel (The Blue Angel) Photos
Movie Info
Marlene Dietrich became an immediate international star on the strength of her performance as the temptress Lola Frohlich in Josef von Sternberg's classic tale of love and obsession. Professor Immanuel Rath (Emil Jannings) is a strict and humorless schoolmaster who is shocked when he discovers the boys in his class have been spending their time at a sleazy cabaret called The Blue Angel, where an entertainer named Lola (Dietrich) keeps the men in thrall and sells suggestive postcards of herself. Rath goes to the club in hopes of catching his students and giving them a severe dressing-down, but he instead finds himself entranced by the carefree atmosphere of the club, and is struck by Lola's earthy, sensual beauty. Rath finds himself strongly attracted to Lola, and she later entertains him in her dressing room. When word of Rath's infatuation with Lola spreads to his students, he is taunted mercilessly, and eventually Rath is dismissed from the school. While Lola agrees to marry Rath, she shows little affection for him and delights in humiliating him, making him her servant and forcing him to play a clown in her stage show. The Blue Angel was shot in both German and English language versions; the German is preferable, as most of the cast were obviously more expert in that tongue. Dietrich introduced her theme song, "Falling In Love Again", in this picture.
Critic Reviews for Der Blaue Engel (The Blue Angel)
Audience Reviews for Der Blaue Engel (The Blue Angel)
What is most memorable in this first-rate tragic classic, apart from Jannings' superb performance, is Marlene Dietrich's incredibly enticing, magnetic presence - which not by chance launched her into international stardom -, but the film also looks and sounds a bit dated today.
Carlos Magalhães
Super Reviewer
½
Why is it so hard for entertainers to fall in love? This movie is sad, but the story is good, especially the ending. Overall it's okay.
½
This is a story about the devastating effects of a man who lets his heart override his brain. A classic of German cinema, right up there with M and Metropolis, this one directed by Josef von Sternberg. If this film was nothing but the visuals -- sets, lighting, art direction -- it would have still knocked me out. But it is so much more than that. Emil Jennings plays college professor Immanuel Rath, who find his students in possession of postcards of a sexy cabaret singer. He goes to the club, called the Blue Angel, to confront the woman, named Lola Lola, about her effects on his students. Unfortunately, he falls head over heels for her himself, and his obsession leads to the loss of his career and eventually, his dignity. It starts comedic at first, with Rath collecting the student's postcards in class, and then later chasing them through the club. But as it goes on Rath loses more and more of his self-worth. When he finally can take no more, being utterly humiliated in front of his hometown, and snaps, it's terrifying to watch. Some of the more memorable scenes are the death of Rath's canary (really), Lola's songs, and the last shot of the film --which I will not give away here -- has stuck with me since I first saw it years and years ago. One of Marlene Dietrich's first films, she is not the glamour ice goddess of her future -- no severe lighting, no cheekbones, no slinky dresses. She plays Lola as much more earthy and blatantly sexual.. Lola knows her appeal to men and is basically a cocktease. I stil haven't decided if Lola means from the beginning to treat Rath as badly as she does, if she doesn't know any better or just doesn't care. One interesting thing about this film is seeing what was considered sexy and racy in pre-Hitler Germany. Lola's costumes are very revealing and yet really show nothing, except her undies. One postcard has a photo of Lola with a grass skirt attached to the card that can be blown up to show her stockings and garters. The young men in Rath's class get great entertainment by this activity. It seems so innocent now in this age of teen girls dressing like streetwalkers and thong bathing suits on every beach. Kinda sad really how jaded we've become as a society.
Der Blaue Engel (The Blue Angel) Quotes
There are no approved quotes yet for this movie.